The Saskatoon cosmetic shop at 3501 8th St E offers brands that use natural ingredients and source those ingredients sustainably.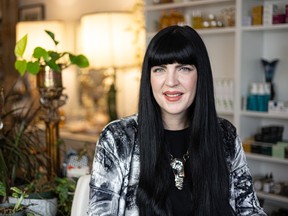 Reviews and recommendations are unbiased and products are independently selected. Postmedia may earn an affiliate commission from purchases made through links on this page.
Article content
If you think the words "sustainability" and "beauty" don't belong together, Jennilee Cardinal-Schultz will gladly tell you that, in fact, they do. The Saskatoon local is a makeup artist and the owner of Green Tree Beauty, a cosmetics, skin care and lifestyle store focusing on sustainable products and practices. She says that no matter what your daily beauty routine is, cosmetics and skin care are one area where our actions truly matter.
Article content
"The beauty industry is a huge industry — whether you're just a shampoo and soap kind of person, or you use a dozen beauty products, we all consume these products every single day," Cardinal-Schultz said. "So this is a place where we need to make change — and we can make change."
Article content
Cardinal-Schultz opened Green Tree Beauty in 2016 but was involved in Saskatoon's beauty community for years prior. As a teen, she worked locally as a model, which led to a love for the fashion industry. After completing her training at the now-defunct Mastermind Makeup Artistry Academy in Saskatoon, she spent years doing makeup artistry for weddings, fashion shows, photoshoots and more.
It was her own experience, however, of using conventional cosmetic products that led her to find a more sustainable route.
Article content
"I had sensitive skin and was starting to react to regular cosmetics, so I (started) doing research about why I couldn't wear my favourite mascara anymore and realized it was the chemicals in it," she said. "I also became uncomfortable using products on clients that I wouldn't use on myself, so I made a switch to a natural (makeup) kit."
At the time, Cardinal-Schultz worked as a makeup artist at the former Alchemy Collective, an initiative started by Saskatoon fashion designer Melissa Squire to bring eco-friendly fashion and beauty artists together under one hub. Cardinal-Schultz says that working at Alchemy inspired her interest in sustainability.
"I was in this environment at Alchemy where I was learning so much about sustainable fashion from Melissa," Cardinal-Schultz said. "The more I learned, I just couldn't ignore that there were a lot of sustainable issues in the beauty industry as well."
Article content
As a result, Green Tree Beauty was born. Cardinal-Schultz started with a small, dedicated section at Alchemy, which she says was the "best place to do it," especially given that she was surrounded by other designers and artists who were also thinking consciously about the environmental impact of their work.
She says she would have stayed at Alchemy as long as possible, but due to the COVID-19 pandemic, the collective had to close its doors. The closure led her to open Green Tree Beauty's own storefront in Saskatoon and, in 2022, the business celebrated two years of being in its own space.
Although Green Tree Beauty has grown and expanded over the past six years, Cardinal-Schultz says her sustainability philosophy remains the same.
Article content
"At Green Tree Beauty, we believe in being kind to ourselves and those around us," she said. "We believe in conscious beauty, which means being aware of where your products came from, what went into it and the effect it will have on you, the planet and the future of our planet."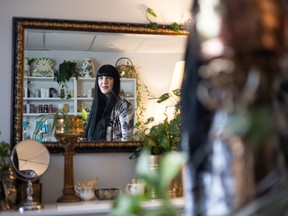 In practice, this mandate takes on many forms, but Cardinal-Schultz notes that she tends to focus on three key sustainability issues.
"First of all, the packaging — many beauty products have a lot of packaging, and it's not just the container that's holding it, but what is that container in? It's usually in a box and then in plastic, so there's a lot of waste involved," she said.
To counter this, she tries to work with brands that use more sustainable packaging or finds alternative ways for the packaging to be recycled or reused whenever possible.
Article content
Cardinal-Schultz looks for brands that use natural ingredients — most often plant and mineral-based — and that source those ingredients in a sustainable way.
"If the ingredients are causing harm to the environment or ruining an animal's home, that's a sustainability issue," she said. "The contents of the product matter too. Is there anything in the product that would hurt the environment? Like if (the product) is flushed down the drain, will it end up polluting the water, for example. Cruelty-free is huge for us too — none of the brands we offer test on animals, and there's no compromise on that one."
Cardinal-Schultz is proud to offer several sustainability initiatives in her shop, including a customized makeup palette program, where customers can purchase a palette filled only with the products they need.
Article content
"Instead of buying a conventional eyeshadow palette that has anywhere from three to 24 shades, we make customized palettes and then when you need a new concealer, you just come and buy the refill instead of buying the whole package again," she said, noting that the program prevents both packaging waste and excess waste of the products themselves.
Another waste reduction initiative — one that's especially popular with customers who have sensitive skin — is their sample program, which allows customers to test out small amounts of certain products before committing to an entire bottle.
"Everybody has a box of stuff at home hidden away under their sink of things that just weren't right for them — wrong smell, wrong colour, whatever. So we encourage everyone to take a sample of something before they buy it. If we can get people trying things before they buy them, it's better for the environment," she said.
Article content
In the shop, many of the products available are also made in Canada, and whenever possible, Cardinal-Schultz works with businesses that are based in Saskatchewan, too.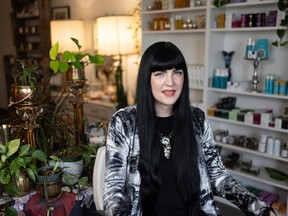 One such business is Scarlett Dahlia Artistry, which is a sustainable textile business owned by Saskatoon designer Amanda Brown. Brown has a similar passion for sustainability and makes household goods and accessories out of raw and upcycled materials. Also a trained makeup artist, Brown met Cardinal-Schultz through MC College in Saskatoon when she took a class that Cardinal-Schultz was instructing.
"I remember her telling me about the idea for (Green Tree Beauty)," Brown said. "So I have watched her and Green Tree Beauty grow from this little budding idea, to a small counter at Alchemy, to a stand-alone store — she's done amazing for herself."
Article content
One of the products Brown makes is reusable makeup wipes, which are available at Green Tree Beauty. She says that Cardinal-Schultz's focus on sustainability has greatly influenced how she approaches her own business.
" (Cardinal-Schultz) was one of the first people I ever knew who would take back your packaging and clean, sanitize and reuse it, or find the appropriate place for that packaging to go," Brown said. "Sustainability has been key since day one for her and it was really inspiring to me and my business to see her approach."
Brown also notes that it's that very approach that has helped make Green Tree Beauty such a success.
"One of the reasons why she has such a passionate customer base is because it doesn't feel like she's selling you a product just to sell you a product — she really cares about her clients and making sure what they get works for them, and sustainability is what drove that," Brown said.
Article content
Helping her clients — whether they're new or long-standing — through their own journey with sustainability is something that Cardinal-Schultz says she loves about her career. She says that sometimes it can be difficult to know where to start when it comes to using more sustainable products, which is why she aims to make conscious beauty an accessible option for everyone who walks through the shop's door.
"The beauty industry on its own is a huge industry and we're being told and sold so many different things, so when you try to add sustainability on top of that as well, it can be very overwhelming," Cardinal-Schultz said. "The really exciting part is that as far as sustainable beauty goes, there are so many fantastic options out there so you're not sacrificing anything to make change."
Article content
Aside from Green Tree Beauty, Cardinal-Schultz loves spending time with her daughter and being involved in the community. She's been a past makeup artist for local events like Girls Rock Saskatoon and the Saskatchewan Fashion Association's Wearable Art Show & Gala. No matter what she's doing though, she's always happy to share her knowledge and experiences, in hopes of building an industry that's more sustainable overall.
"We're all learning about sustainability and that's what Green Tree Beauty is here for, to help find those right choices for yourself and for the planet."
La Ronge artist Nancy Lafleur crafts 'story skirts' that celebrate Indigenous lives

New Faces, New Places: Teen opens fashion boutique in Saskatoon to fulfil her dream

Bridges: Women's health top of mind for Myranda Reimer
The news seems to be flying at us faster all the time. From COVID-19 updates to politics and crime and everything in between, it can be hard to keep up. With that in mind, the Saskatoon StarPhoenix has created an Afternoon Headlines newsletter that can be delivered daily to your inbox to help make sure you are up to date with the most vital news of the day. Click here to subscribe.
link