By Chen Cheng-hui / Staff reporter
Cosmetics chain operator Poya International Co (寶雅國際) would have double-digit percentage profit growth over the next three quarters on an annual basis, given its stable customer traffic recovery and accelerated store expansion, Fubon Securities Investment Services Co (富邦投顧) said in a note yesterday.
As of the end of third quarter, the company had 297 outlets in Taiwan selling cosmetics, lingerie, skincare and stationery products, after opening three new stores in the quarter. That was a net increase of seven stores from the end of last year, company data showed on Monday.
In addition, the company was operating 37 Poya Home (寶家) hardware stores as of the end of last quarter, up three from the end of last year, the data showed.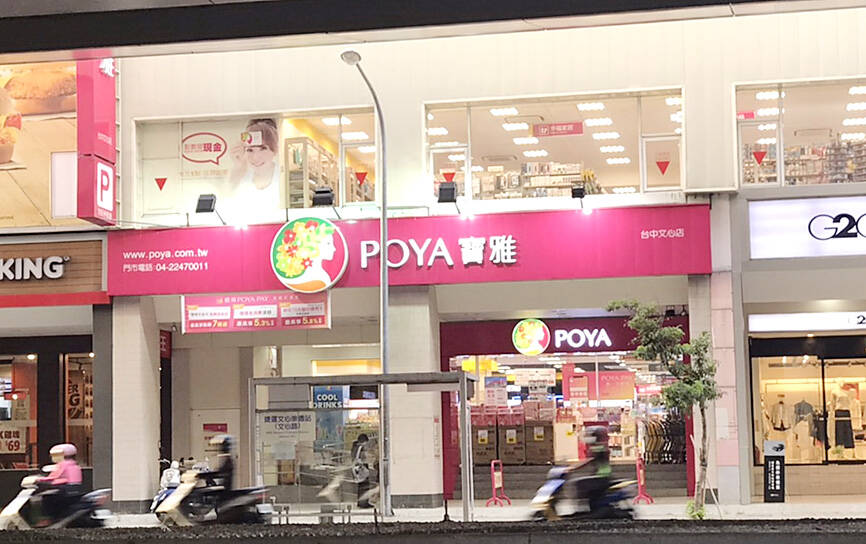 Photo: Liao Yao-tung, Taipei Times
Single-store sales last quarter grew 19.7 percent from a year earlier, thanks to customer traffic recovery as COVID-19 restrictions were eased, and sales of cosmetics, sunscreen and other skincare products rose in the summer, Fubon Securities Investment Services said.
"Poya [International] plans to open more than 20 new stores this quarter and 30 more next year, which would drive the company's growth," it said.
As Poya Home plans to open three to five outlets this quarter and up to 15 stores next year to increase economies of scale, "it would also play a complementary role to Poya [International] in terms of sales items and channel brand image," Fubon Securities Investment Services said.
During the July-to-September quarter, Poya International's consolidated net profit increased 116 percent quarter-on-quarter and 57 percent year-on-year to NT$620 million (US$19.27 million), the firm said in a regulatory filing on Monday.
That translated into earnings per share (EPS) of NT$6.07, higher than Fubon Securities Investment Services' forecast of NT$5.96 and the market consensus of NT$5.57, as gross margin came in better than expected at 43.04 percent, thanks to greater sales volume, while operating margin hit a pre-pandemic high of 15.1 percent due to economies of scale.
In the first three quarters of the year, net profit totaled NT$1.41 billion, up 9.85 percent from a year earlier, or EPS of NT$13.83, the filing showed.
Cumulative revenue in the first three quarters increased 12.7 percent year-on-year to NT$14.34 billion.
Gross margin decreased 1.52 percentage points to 42.22 percent, while operating margin fell 0.15 percentage points to 12.63 percent, the filing showed.
Given the better-than-expected third-quarter results and Poya International's aggressive expansion strategy, Fubon Securities Investment Services forecast that its EPS would reach NT$20.06 this year and NT$23.8 next year, compared with NT$18.25 last year.
Comments will be moderated. Keep comments relevant to the article. Remarks containing abusive and obscene language, personal attacks of any kind or promotion will be removed and the user banned. Final decision will be at the discretion of the Taipei Times.
link