A new study released this week by LTK paints a picture of just how influential content creators have become in getting people to purchase beauty products.
A couple of key trends are contributing to the impact of beauty creators. The first is the consumer preference for video, which has spurred more brands to create video content while also opening enormous space for individuals to contribute and benefit from this consumer desire. Plus, creators have gained consumers' trust, ranking most trustworthy in LTK's study, ahead of brand ads and celebrities. Furthermore, 78% of Gen-Z and 61% of millennial women say they trust creators the most. The survey was conducted on May 31, 2023 with 1,044 participants, reflective of the U.S. population with 97% confidence.
"Creators are the most powerful opt-in marketing strategy a brand can participate in," said Ally Anderson, director of strategy and insights at LTK. "People are [intentionally] following a creator or have taken a step to [follow] their life. When a creator inspires their audience around [something beauty-related], it can be impactful and engaging for that brand."
An influencer's power exists not solely in the online world, either. About 82% of Gen Zers purchase creator product recommendations in-store, compared to 66% of millennials and 57% of the general population. These percentages are similar for the online environment, where 83% of Gen Zers purchase creator product recommendations, compared to 71% of millennials and 60% of the general population. This means that influencers' content is sticky enough that people can recall their product recommendations while shopping in real life.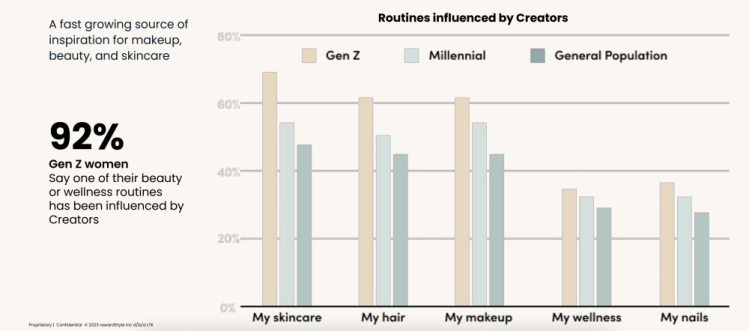 Regarding the most watched content, hair styling was No.1, followed by 'Get Ready With Me' makeup videos, hair care routines, skin-care routines, wellness or self-care routines, nail content, 'Get Unready With Me' videos, and vitamin routines. And it's not surprising to see how easily influenced Gen Z is, compared to millennials, given their earlier beauty journey and their digitally-native habits. Gen Zers frequently use social media to search for products and trends, rather than rely on a traditional search engine. Overall, 92% of Gen-Z women said their beauty and wellness routines have been influenced by creators, with skin care being the most influenced category, followed by hair, makeup, nails and wellness.
"Gen Z is more heavily leaning into creators than generations before. Being where that audience is, where they're inspired and where they're learning about products is important for brands to consider," said Anderson.
Some of the brands and products that saw the highest growth on LTK include Dibs Beauty and its Duo Brush 15, Tangle Teezer's Ultimate Detangler Plant Brush, Tarte Cosmetic's Maracuja Juice Lip trio, and It Cosmetics' Nude Glow Foundation SPF 40. Among influencers driving that sales interest were Daryl-Ann Denner (@darylanndenner; 412,200 TikTok followers), for Dibs; a user going by @thelilliebag (110,000 TikTok followers), for Tangle Teezer; Cella Jane (@cellajaneblog; 572,600 TikTok followers), for Tarte; and Lauren Kay Sims (@laurenkaysims; 548,700 TikTok followers).
"Creators have revolutionized inspiration and shopping in the beauty industry," said Anderson. "All of the data points to positive growth and success for beauty brands."
link