There's a new one-stop destination for your favourite luxury beauty brands. Raffles City is now home to many international skincare, makeup and fragrance houses – some even their first-ever, and flagship stores in Singapore.
This Christmas is a particularly special one. It's the first time in two years that we're finally able to celebrate the festivities with all our loved ones and without safe distancing measures. So, it's no surprise that we're going the extra mile with festive shopping and gifting, and there's no better place to head to other than Raffles City. Keep reading for our hit list of eight luxury beauty brands to visit this season.
Aesop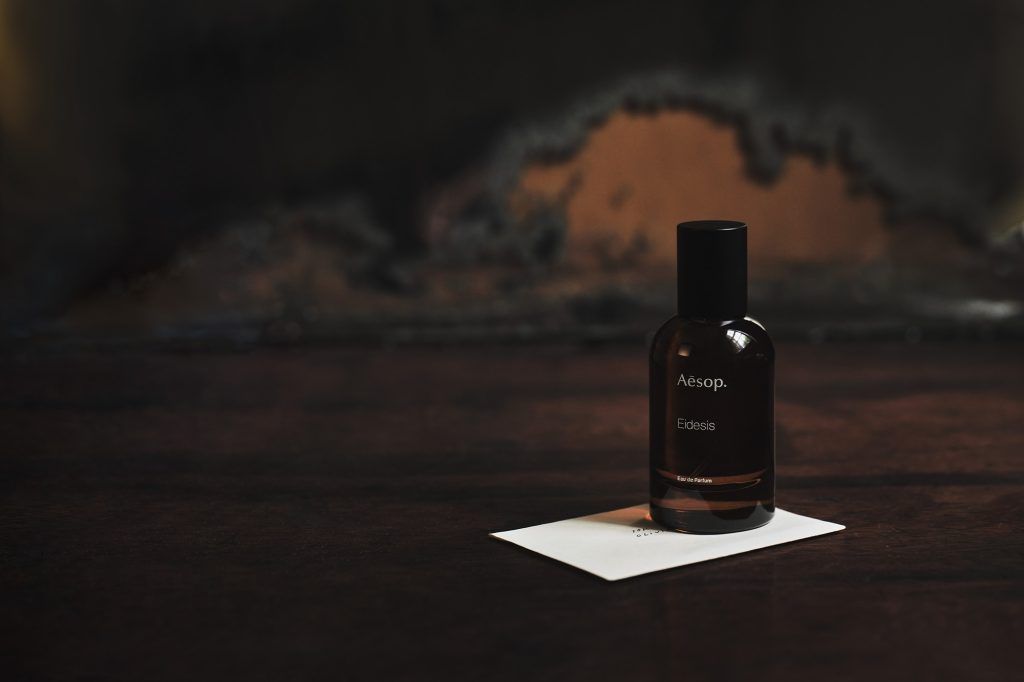 The second iteration of the Aesop Raffles City store, now moved to the front of the mall, reinterprets aspects of Singapore life. Objects that form part of everyday life, such as trays, chairs, and plastic sauce bottles from coffee shops, have been turned into shelves and shared basins, created from a resin that can be renewed over the years. Handrails and public phone booths are turned into fragrance wardrobes and a basin in a stainless steel. These are presented in a sharp juxtaposition to the earthy stucco that represents the country's urban jungle.
In this serene space, customers can shop their favourite cult Aesop products which span skin, hair and body care products, according to advice of the store's knowledgable consultants. The brand's newest addition to its Othertopias collection is the Eidesis fragrance created by collaborator and French perfumer Barnabé Fillion. The scent is a genderless blend that opens with  sparkling Petitgrain, spicy Black Pepper and a light floral accord, before it peters into a spicy heart of Frankincense, Cumin and Cedar, eventually settling into a base of sandalwood, cedar and earthy vetiver.
Acqua Di Parma
Earlier this year, Acqua di Parma made headlines when it opened its first flagship store in Southeast Asia at Raffles City. The Italian brand dates back to 1916, when its founder baron Carlo Magnani created the light and refreshing Colonia perfume. It quickly attained international fame with high society and celebrity clients, and is now widely synonymous with Italian heritage and style.
The store brings to life the brand's DNA of timeless sophistication and savoir faire, making an impression with its double entrance, high ceilings and its signature 'Parma Yellow' shade incorporate in the design. Here, the house reinforces its reputation as a lifestyle maison. The boutique is home to the brand's first Barbiera in Asia Pacific that offers Italian shaving and men's grooming services.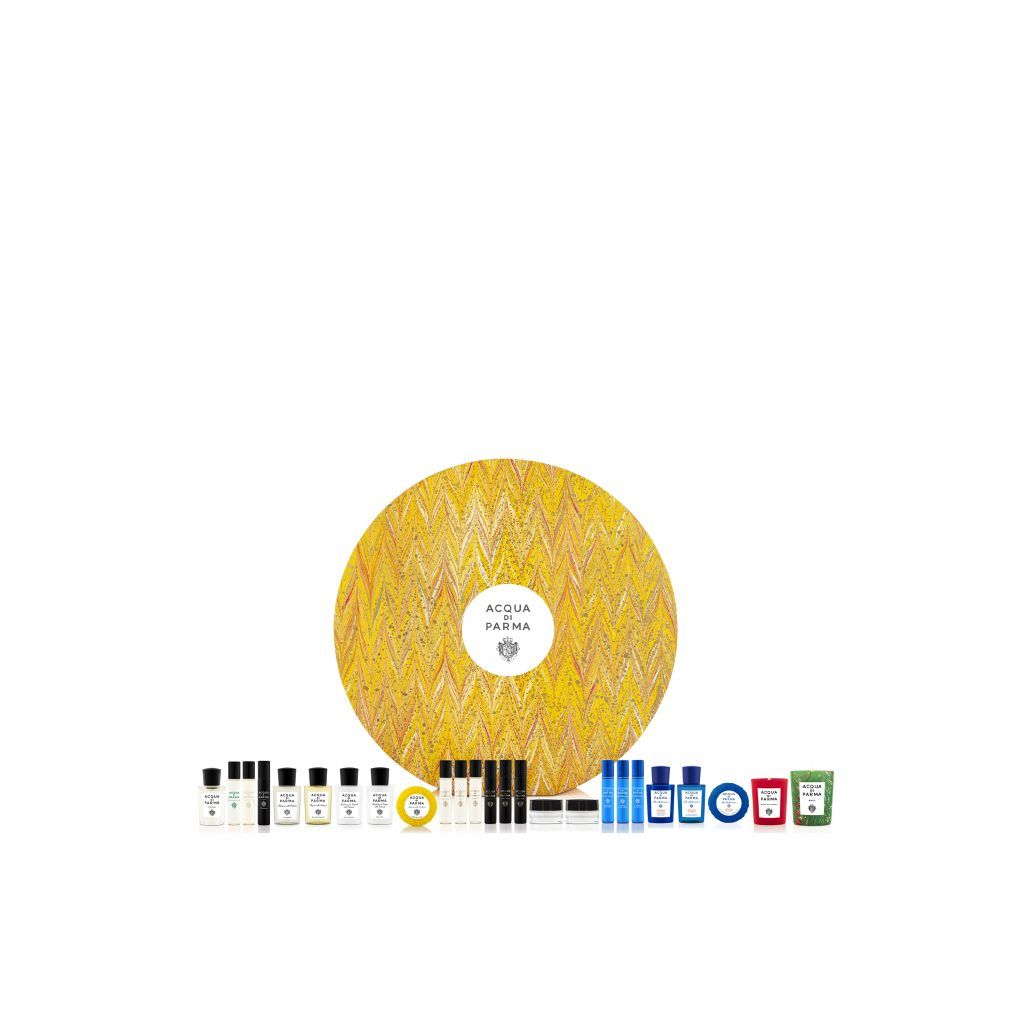 For the festive season, the house has special gift sets in store. The Colonia and Colonia Essenza are presented in boxes decorated in marbled swirls of green, red and gold and the house's signature radiant yellow, with a full selection of products that includes a 100ml Eau de Cologne, a 75ml Shower Gel and50ml Deodorant spray. The Blue Mediterraneo – inspired by colours of the sea and the Italian Mediterranean – comes in three options of scents of the Arancia di Capri, Mirto di Panarea and Ficod'Amalfi. Also, expect Panettone, Bosco and Magia del Camino candles from the Home collection and a grand advent calendar in marbled paper in house colours of yellow and gold, comprising 25 windows of olfactory treats.
Chanel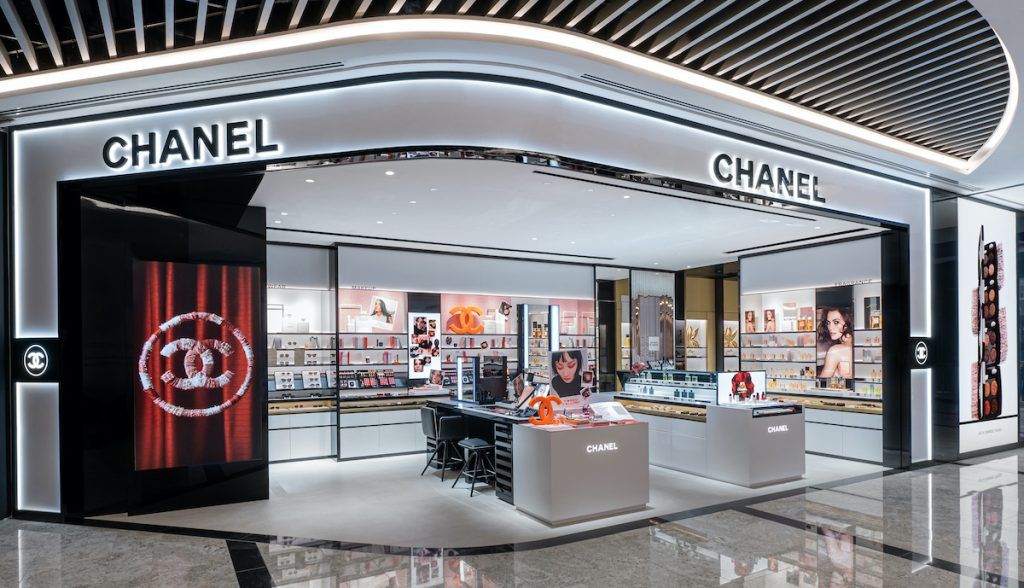 Chanel's fragrance and beauty boutique at Raffles City is now an 88-metre two-floor store with two entrances. True to the maison, its design is defined by sleek black and white lines and specific areas that spotlight makeup, fragrance and skincare as well as the special store exclusives. The store also features a skincare and fragrance wall and the Les Exclusifs De Chanel, its line of iconic scents that pay tribute to Mademoiselle Chanel's life.
Keen to explore the full range of the maison's makeup? The Chanel try-on feature lets you experiment with online makeup tutorials and digital makeovers. If you need professional advice, the house's beauty consultants and makeup artists are on hand to offer personalised consultations and makeup tips.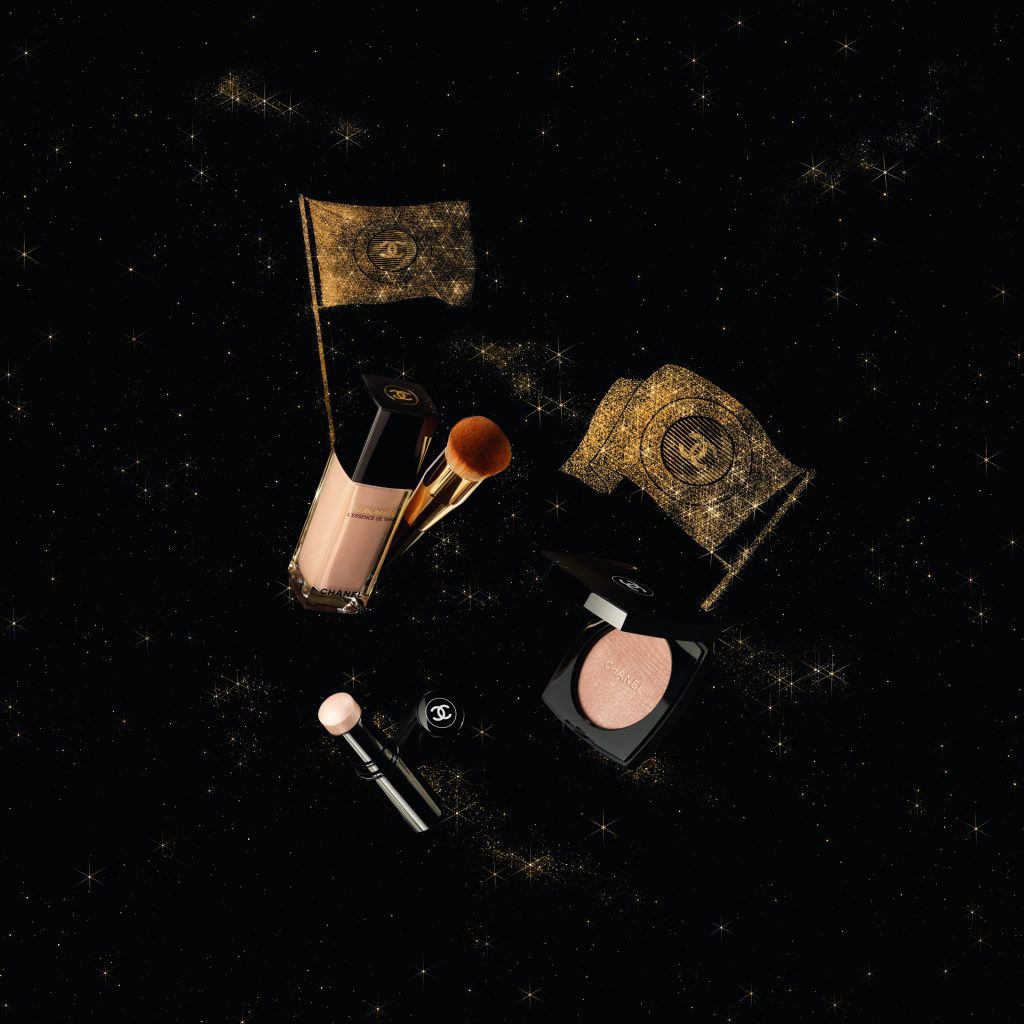 For the holidays, Chanel's beauty launches looks to its iconic No.5 products and the moon as inspiration. The Eclat Lunaire Oversize Illuminating Face Powder is embossed with the fragrance flacon encircled by the moon while the eyeshadow shades of the Les 4 Ombres palette in Ombres De Lune features the house's symbols set against the backdrop of the moon's surface. Other collectibles include the pigmented Rouge Allure Léxtrait lipsticks and the shimmering No.5 Gold Body Oil.
Chloé
Chloé launches its first ever Atelier des Fleurs boutique, named after its collection that celebrates the art of floral composition, in Singapore. The fragrance range is a celebration of the maison's ethos of Parisian pared-back elegance and creative freedom, through its olfactory formulas that spotlights singular flowers in all of its purity and simplicity. The 17 perfumes in the Atelier des Fleurs range each embody the flowers they are named after, with blends that capture the roots, petals and the scent trails they leave.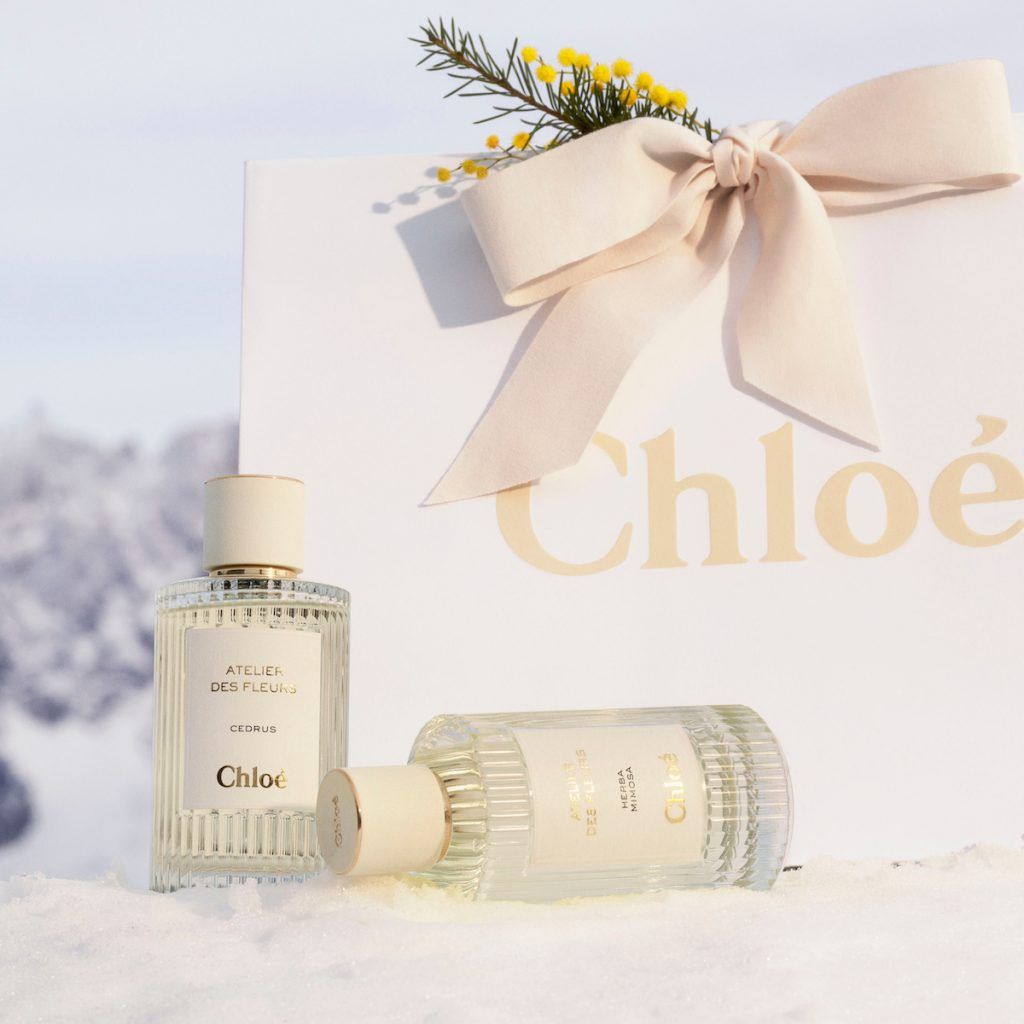 Two new fragrances have joined the Atelier des Fleurs Naturelle range: the powdery fresh Violette and the velvety rich Santalum. Like the other scents in the collection, they are made with 100 per cent natural-origin raw materials, natural alcohol, and water. They do not contain artificial colourings and filters, in line with the house's values of minimising environmental impact.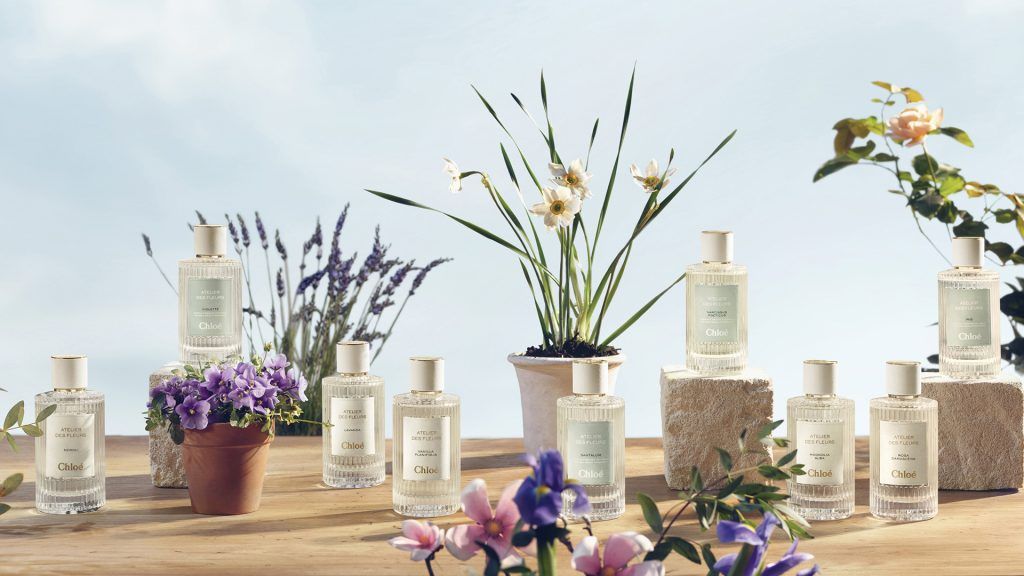 The boutique brings the maison's botanical vision to life with its walls decked in soft shades of pastel pink and a garden setting complete with a flower cart and floral arrangements. This month, the store ramps up its festive experience with complimentary services such as personalisation, perfume miniatures and gift wrapping.
Creed
Legendary perfume house Creed joins the lineup with its first flagship store in Singapore. The storied maison's history dates back to 1760, when it first began as a tailoring house in London. As its roots and connections to royalty and nobility burgeoned over the years, it was Oliver Creed who had the vision of making its perfumes for the public.
What makes Creed so deserving of its status is the labour of love that goes into every bottle. The house uses the finest natural raw ingredients, weighed, mixed and macerated by hand and paired with a traditional winemaking technique known as Millésime. Fragrances are only released when they are are ready.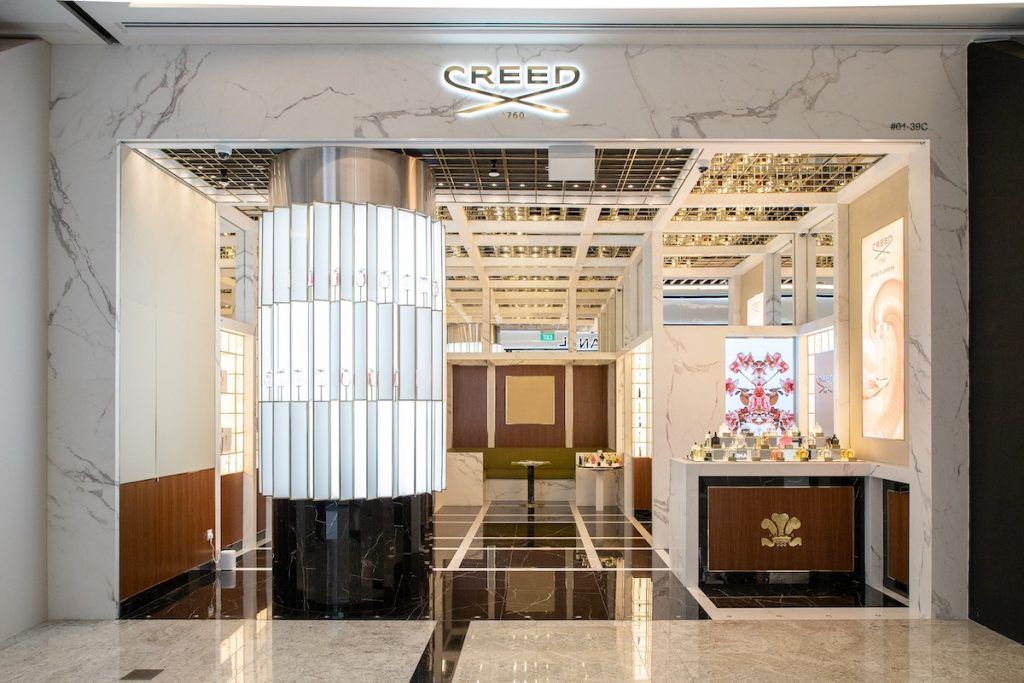 The Raffles City boutique features a marbled design, clever lighting, and gilded fixtures, with services such as personalisation and fragrance profiling. As for store exclusives, Creed fans will love the Les Royales Premium Range. The six fragrances are handcrafted with the most exquisite essences and rarest techniques.
For Christmas, the house has released an extension of the Leather Explorer collection. These comprise three leather products which includes one trunk that features the monogrammed Creed leather, the house's brass plaque and polished brass hardware on the lock and feet. Others in the range include perfume sleeves, as well as the Christmas candles of Birmanie Oud and Vanisia, dressed in leather holders. Trunks and sleeves aside, there will also be two gift fragrance sets of three 10ml and five 10 ml scents featuring best-selling perfumes such as Aventus, Silber Mountain Water and Aventus for Her.
Diptyque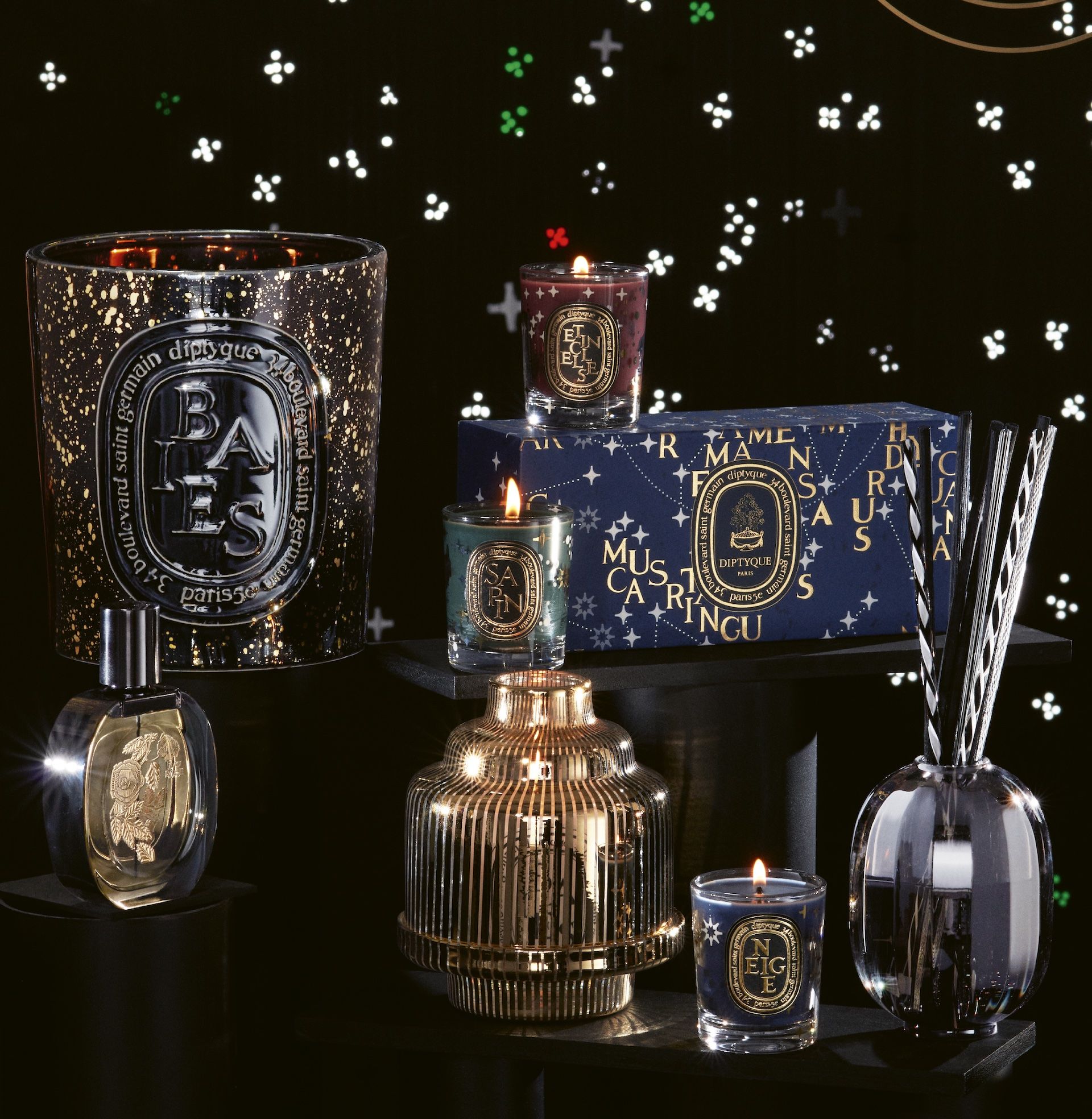 At Diptyque's new store in Raffles City, the French fragrance brand pays homage to Parisian charm and its Singapore locale with a unique and eclectic design aesthetic. There's a fireplace and mouldings typical of Parisian apartments, paired with furniture from local-based Studio Kallang. Decorating the shelves are the maison's scented candles in an array of blends, and objects like the candle holders, lanterns, limited edition candlesticks and diffusers.
For the season, look out for its holiday collection inspired by constellations. A chart of white, gold and silver constellations decorate its three limited edition seasonal candles, which offer up scents of pine trees and wood fires. The house's advent calendar this year is glow-in-the-dark and adorned with illustrations of the milky way. As for its Christmas fragrance, the Eau Rose features subtle embossed roses with golden highlights, and is housed in a dark red case studded with stars and letters. The scent also comes as a gift set of a hair mist and hand cream.
Givenchy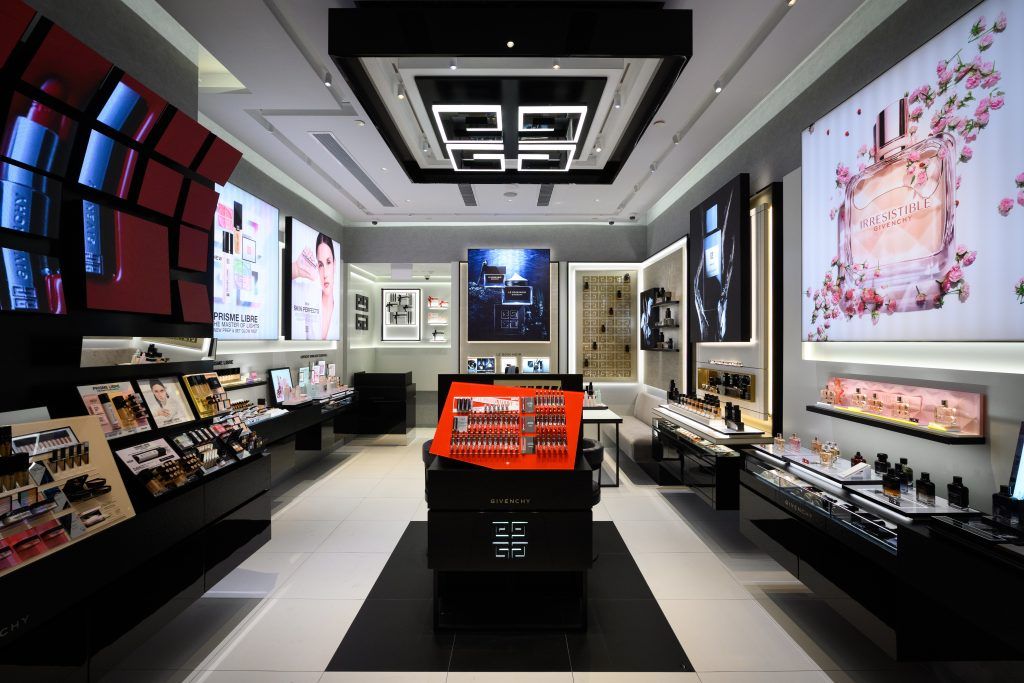 Great news for longtime fans of Givenchy. The French luxury perfume house's new Raffles City boutique is well-stocked with its exclusive ranges, such as the La Collection Particulière de Givenchy, its prestigious line of fragrances comprising scents that symbolise the house's and founder Hubert de Givenchy's milestones. Aside from perfumes, the boutique also houses its luxury skincare line of Le Soin Noir for the first time in Singapore.
Givenchy is also a formidable player in the makeup world with viral products to its name like the Prisme Libre Loose Setting and Finishing Powder.  This Christmas, the house unveils a limited-edition makeup collection that revisits its three signature cosmetics of the Prisme Libre Loose Powder (this time available in Lumière Polaire No.12, made up of four pastel shades infused with micro-glitter), Le Rouge Sheer Velvet in shade Rouge Infusé No.27, a red infused with hints of pink, and the Le Rouge Interdit Intense Silk Rouge Vigne No.338, which is a cold and deep red. The three are dressed for the festive season in a futuristic metallic padding. For the festive season, the boutique will also offer complimentary skincare consultations and touchup services as well as engraving and personalisation services.
Guerlain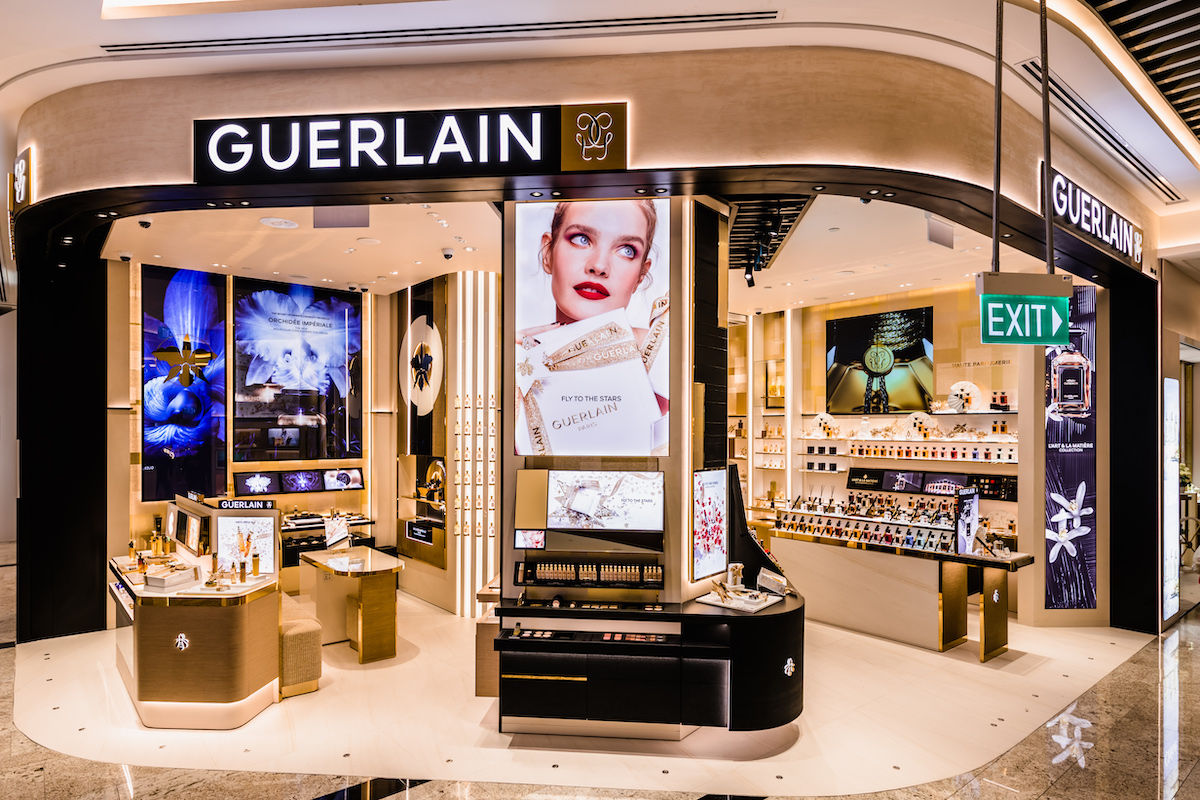 Guerlain's new standalone flagship boutique is bound to be a new favourite among discerning beauty enthusiasts. The 633 square ft store is home to the house's first ever facialist cabins, which offer a gamut of pampering and anti-ageing facial services that merge its potent Orchidée Impériale Black formulations with powerful Blackimmune™ technology, invigorating massage techniques and tools such as energetical stones.
The boutique will also house the maison's signatures collections across skincare, makeup and fragrance like the prestigious ranges of the Orchidée Impériale, Rouge G and L'Art & La Matière. The iconic Bee Bottle in 125ml will be available in four selected scents for the first time here.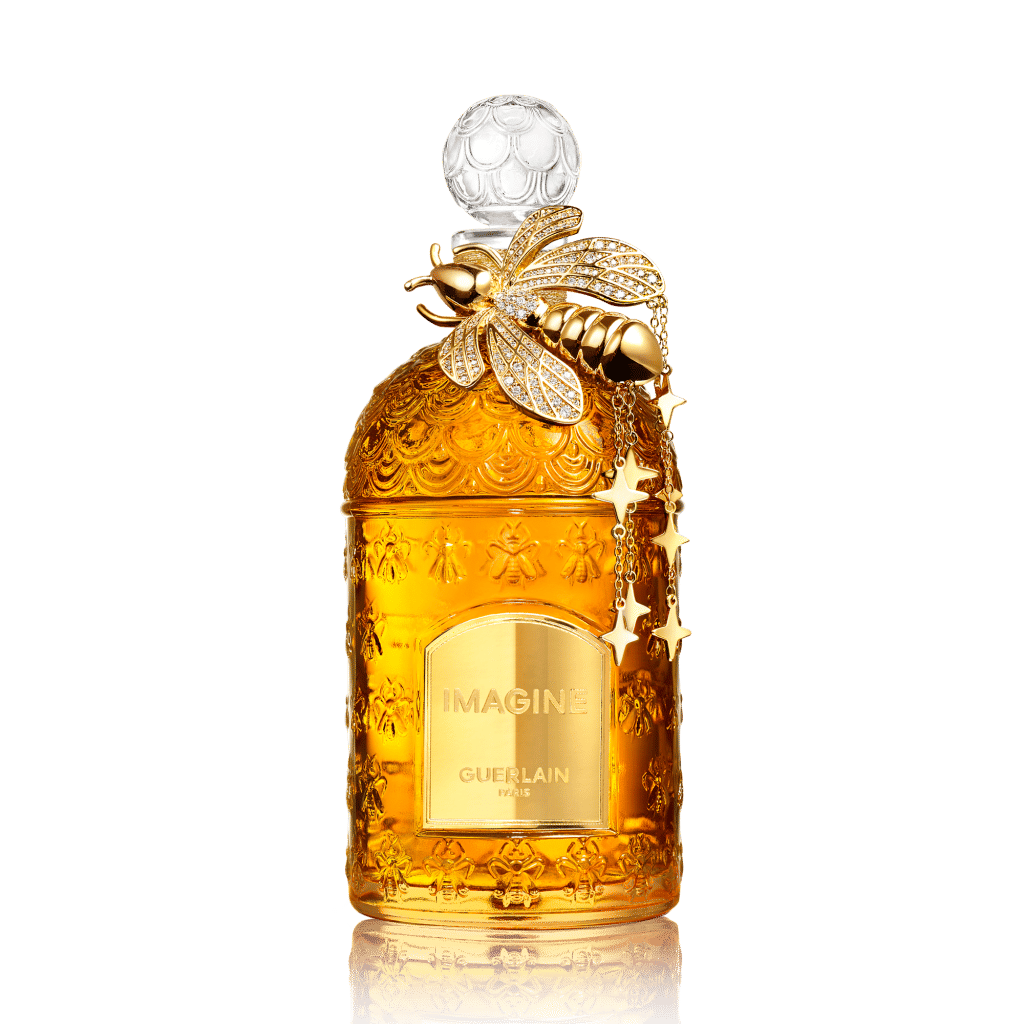 Imagine, its 2022 Bee Bottle launch, will be exclusively available in store in only 15 pieces, at $1,070 each. The fragrance is limited to only 3,960 pieces worldwide so seize this chance for a truly exceptional gift for a loved one. Another exciting exclusive is  the brand's home collection. Look out for iconic signatures such as the Eau de Cashmere home fragrance that will also be available for the first time on local shores.
Guerlain x Raffles City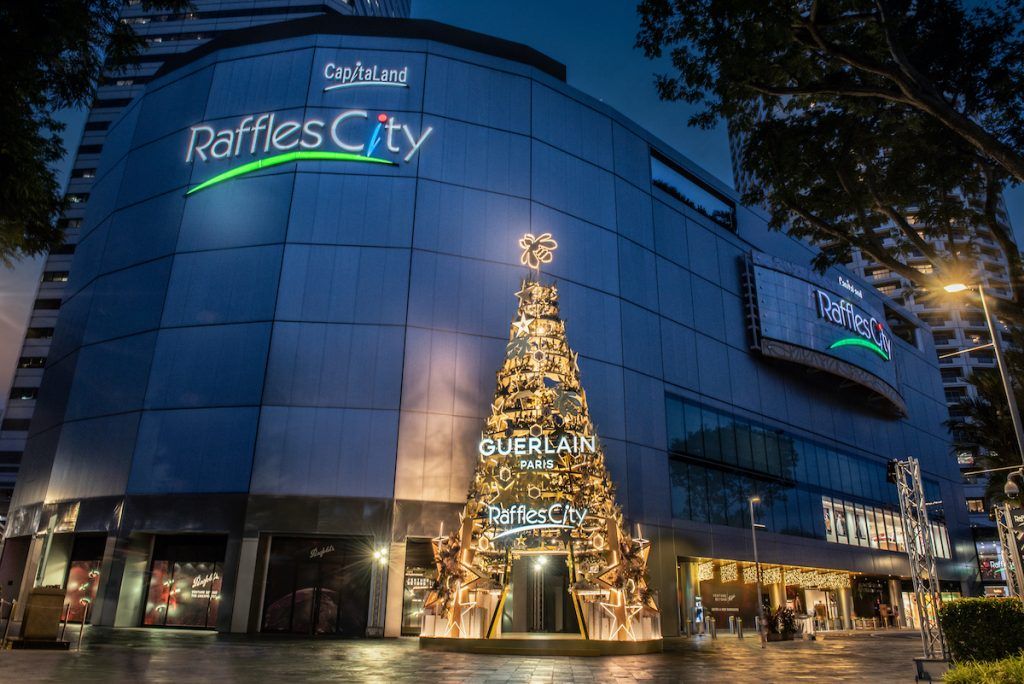 Kicking off the festivities is the Guerlain x Raffles City Christmas tree installation, named Fly Me to the Stars, located at the mall's external quartzite. It marks the first time Guerlain has ever unveiled a tree installation in the world. Its exterior terraces are adorned with vegetation and foliage, while its immersive space at the foot of the tree beam with shimmering rings of LED lights, stars, honeycombs and bees, the maison's lovable mascot. At 15 metres tall, the tree is a grand, gleaming symbol of Raffles City's exciting new refresh and its new status as the destination for luxury beauty.
For more information, head to the Raffles City website. 

link