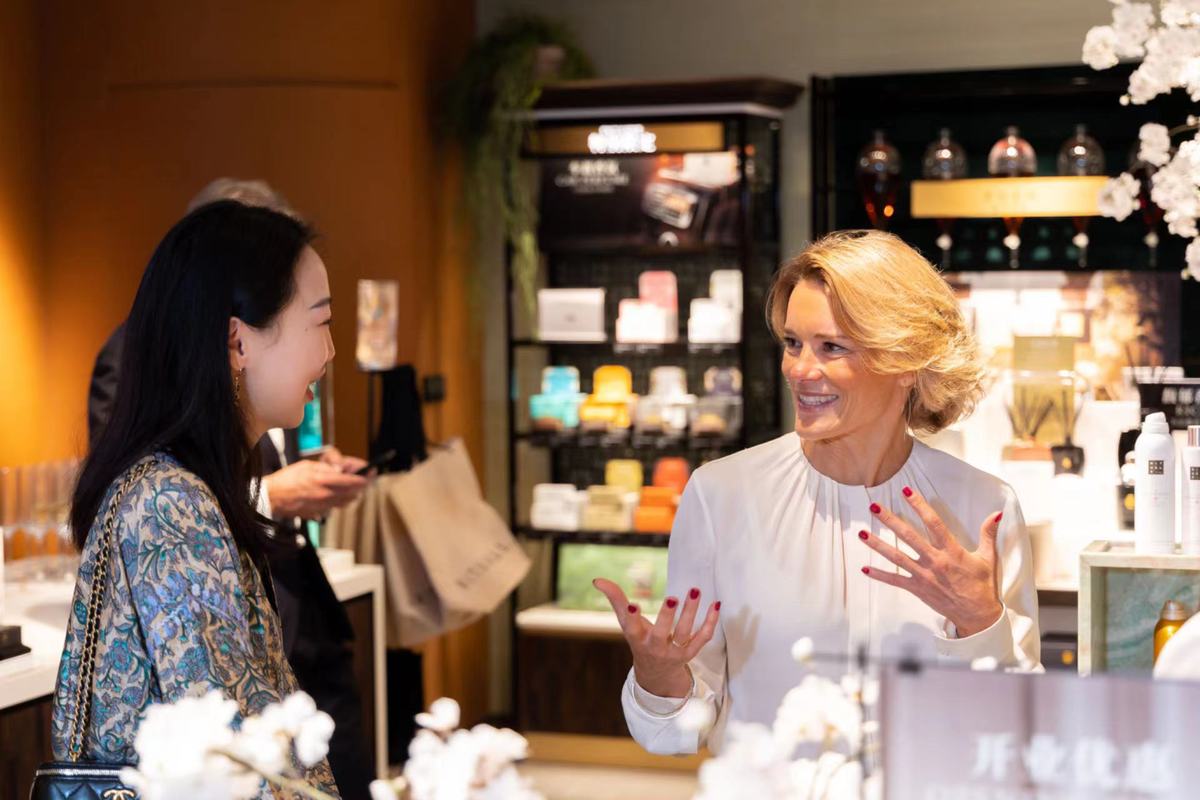 Upbeat about the Chinese market, Rituals Cosmetics, the Netherlands-headquartered home and body cosmetics brand, plans to open 10 brick-and-mortar stores in the Chinese mainland by the end of 2024, with the goal of expanding its market share, said its top executive.
After establishing more than 1,000 stores in other parts of the world, mainly in Europe, the Dutch company has now ventured into the Chinese mainland by inaugurating its first store in Shanghai earlier this week. Furthermore, it is scheduled to open two more stores, one in Shanghai and another in Nanjing, Jiangsu province, later this year.
Many opportunities come from China"s ongoing consumption upgrade; consumers' growing inclination toward personalization; and their heightened focus on brand value, sustainability and innovative business practices, said Raymond Cloosterman, Rituals' founder and CEO.
"Asia has always been a key part of our global vision at Rituals, and we are thrilled to have established a presence in Hong Kong Special Administrative Region, Malaysia, Singapore and now the Chinese mainland, said Cloosterman. "It has always been our goal to build our brand in the Chinese mainland, bringing together the world of accessible luxury and well-being."
He said that the company's expansion in the Chinese mainland signifies a significant milestone, as Rituals has achieved substantial success in Europe while East Asia, particularly the Chinese mainland, presents a compelling market opportunity.
China is expected to become the world's largest luxury consumption market by 2025. The Chinese mainland market, which saw growth in the first quarter, is expected to pick up pace again this year, according to global market consultancy Bain & Co.
Rituals, known for offering products such as car perfume, foaming shower gel, body spray and candles in its stores worldwide, is committed to delivering unique fragrance experiences that surpass the expectations of Chinese consumers, said Cloosterman.
In addition to opening more physical stores in top and second-tier cities in the Chinese mainland, Cloosterman said the company will keep introducing products, including body lotion and perfume that are specifically designed for Chinese consumers, in the years ahead.
"We are willing to invest in building our future with China, and time will reveal the extent of our commitment," he added.
"As people's living standards continue to rise, their desires for enhanced personal images and a higher quality of life have grown. The use of fragrances has emerged as a potent means of fulfilling these aspirations," said Guo Xin, a marketing professor at Beijing Technology and Business University.
In this context, fragrances have become increasingly sought after, as individuals place a greater emphasis on both their physical and mental well-being. The calming and therapeutic attributes of scents are capturing the attention of a growing number of consumers, she noted.
link