By Liu Tzu-hsuan / Staff writer, with CNA
Local department stores have said they expect sales of cosmetic and skincare products to soar following the lifting of an outdoor mask mandate on Thursday.
The mandate had come into effect on May 19 last year, requiring people to wear masks outdoors at all times.
Cosmetics sales have since been dominated by eye makeup products, Uni-Ustyle Department Store in Taipei said.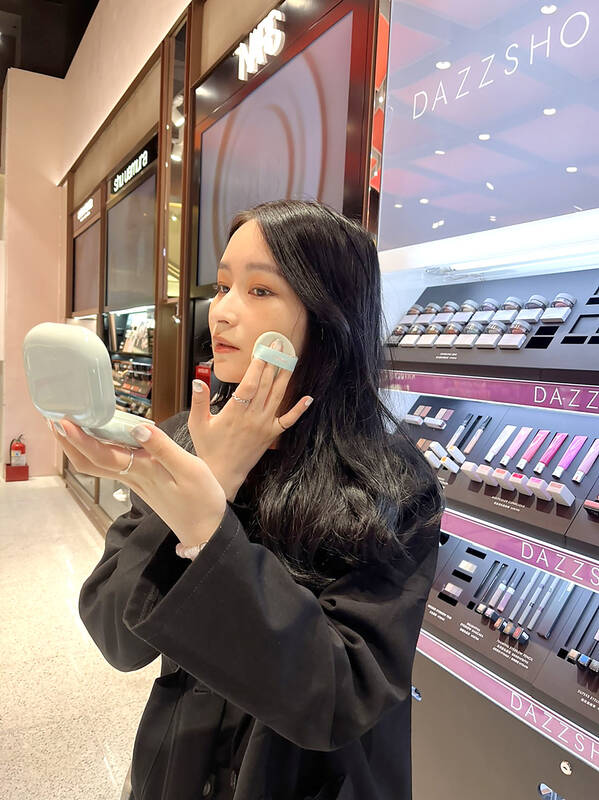 Photo courtesy of Global Mall via CNA
However, it has recorded a surge in the sales of lipsticks and other cosmetic products since the lifting of the mandate, it added.
A senior official at Far Eastern Sogo Department Store yesterday said that cosmetics sales usually peak near Mother's Day and during anniversary sales.
However, many people did not purchase cosmetic products for Mother's Day this year, as they were still using the products they had bought during anniversary sales near the end of last year.
Sales of cosmetic products at the store fell about 20 percent during the COVID-19 pandemic, suggesting that people were not concerned about beauty care, the official said.
In addition to lipsticks, sales of foundations and other skincare products also soared since Thursday, they said, adding that the company expects the sales of such products to rise 10 to 15 percent in the short term.
International cosmetics brands have been focusing on the Taiwanese market as China continues to implement harsh lockdown measures to stamp out COVID-19 cases there, the person said, adding that Taiwanese consumers can expect a variety of new product launches.
Global Mall said that sales of cosmetics, electric toothbrushes and razors rose after the mask mandate was lifted.
Female office workers aged 30 to 40 were the main buyers of electric toothbrushes, while razors were mostly inquired about by males aged 40 to 50, the mall said.
The mall expects its sales of cosmetics to increase 30 percent amid soaring demand for lipsticks, foundations, primers and blushers.
Appointments for facial skincare sessions also increased, it said.
The mall said it is offering discounts for its anniversary sales and the Christmas shopping season.
Its sales this year have surpassed those from before the COVID-19 pandemic and the number of customers has almost reached pre-pandemic levels, it said.
It expects sales of food and beverages to grow 20 percent due to end-of-the-year gatherings and shopping sprees, it said.
Comments will be moderated. Keep comments relevant to the article. Remarks containing abusive and obscene language, personal attacks of any kind or promotion will be removed and the user banned. Final decision will be at the discretion of the Taipei Times.
link