With stores all over the globe, Sephora has become one of the biggest beauty retailers from its humble beginnings as a French perfume shop. The company's growth through a combination of unique retail strategy-online marketing combination is covered in the Sephora business model.
Aside from serving as a platform for other beauty and cosmetic brands to sell their products, Sephora runs its own private label 'Sephora Collection', and offers a wide range of beauty and skincare products from cosmetics to body lotions.
Sephora thrived on its 'use-before-purchase' retail strategy which encouraged customers to test out products before buying them as opposed to competitors who discouraged buyers from doing the same.
The company has been praised for its innovative combination of retail and online marketing, as well as its technology-driven customer experience methods.
Sephora currently has over 30,000 people in more than 2,700 stores in over 35 countries and is one of the world's leading names in the beauty and cosmetics industry. 
A brief history of Sephora
Launched in August 1970 in Paris, Sephora was later purchased by Frenchman Dominique Mandonnaud who merged all thirty-eight of the brands' stores with the twelve of his perfume business, 'Shop 8', in 1993.

At that time, trying out products before the purchase was almost unheard of, and Mandonnaud's assisted self-service or 'try before you buy' sales strategy put Sephora on the map ahead of competitors.
Sephora launched its own brand featuring Bath and body products In 1995 and in 1997, Sephora opened its first flagship store in Champs-Élysées. The Champs-Élysées store is currently Sephora's largest location in Paris and a popular tourist stop. Sephora was sold to LVMH Moët Hennessy Louis Vuitton, a French conglomerate that specializes in luxury products, in July 1997 and the company expanded Sephora globally and included beauty and cosmetic products to its line. By the end of the decade, Sephora had expanded into Italy, Portugal, Spain, and Poland.
Sephora opened its first North American store in 1998 in the Soho neighborhood of New York City, and launched its online store in the U.S. the following year. In 2003, the company launched an online store in Canada, and, following its success, Sephora opened its first Canadian store in Toronto in 2004. With its North American headquarters located in New York City, Sephora currently has over 430 stores across North America. The company's 400th location in North America was opened on 26 August 2016 in Chicago. It is currently the city's flagship location.
In 2006, Sephora partnered with JCPenney, an American department store chain, to create "Sephora Inside JCPenney", a mini-version of the Sephora store within JCPenney that invites customers to shop there while buying items within the department store. In 2007, the company launched 'The Beauty Insider', a customer loyalty program that awards clients exclusive benefits and rewards. Two more of such programs were launched later on; 'Very Important Beauty Insider' or 'VIB' in 2009 and Rogue in 2013. Today, loyal clients get rewards ranging from redeemable cash prized to exclusive access to events.
Sephora extended to the Middle Eastern markets in 2007 and currently has over 44 Sephora UAE and KSA stores, as well as an eCommerce store. Three years later, in February 2010, Sephora opened its first Latin American store in the Dominican Republic.
In August 2018, Sephora made its first appearance in Latin America in February 2010, opening its first branch in the Dominican Republic, and, in August 2018, its first store in India was opened in Hyderabad.
The company opened its largest retail location on 31 March 2017 in Herald Square in New York City. The approximately 11,380 square feet store features over 13,000 products and is one of the six Sephora TIP Workshop locations in North America. Sephora's TIP– teach, inspire and play– stores feature USB ports, iPads, and Wi-Fi for tech-enabled beauty advice that customers can experience alone or with store associates helping. The first of such stores was opened in San Francisco in 2015 and the other North American locations are in Boston, Chicago, Santa Clara Valley, and Toronto.
Sephora introduced the Sephora Credit Card, Sephora Visa® Credit Card, and Sephora Visa Signature® Credit Card in 2019, another client loyalty program that gives Sephora customers more ways to get rewarded for shopping for their favorite brands. Similar to the Beauty Insider, Very Important Beauty Insider, and Rogue programs, cardholders earn rewards for shopping and Sephora Visa Signature cardholders get access to further Visa Signature benefits.

To support its stance on diversity, inclusion, and equity in the beauty industry, Sephora launched its Diversity and Inclusion Heart Journey in 2020 and on July 26, 2021, Sephora entered an agreement with Palamon Capital Partners and other shareholders to purchase Feelunique, a UK online retailer of prestige beauty goods with over 1.3 million active customers and 35,000 products from more than 800 brands.
Today, Sephora operates over 2,700 stores in 35 countries worldwide and is partnered with about 340 brands and over 78,000 products.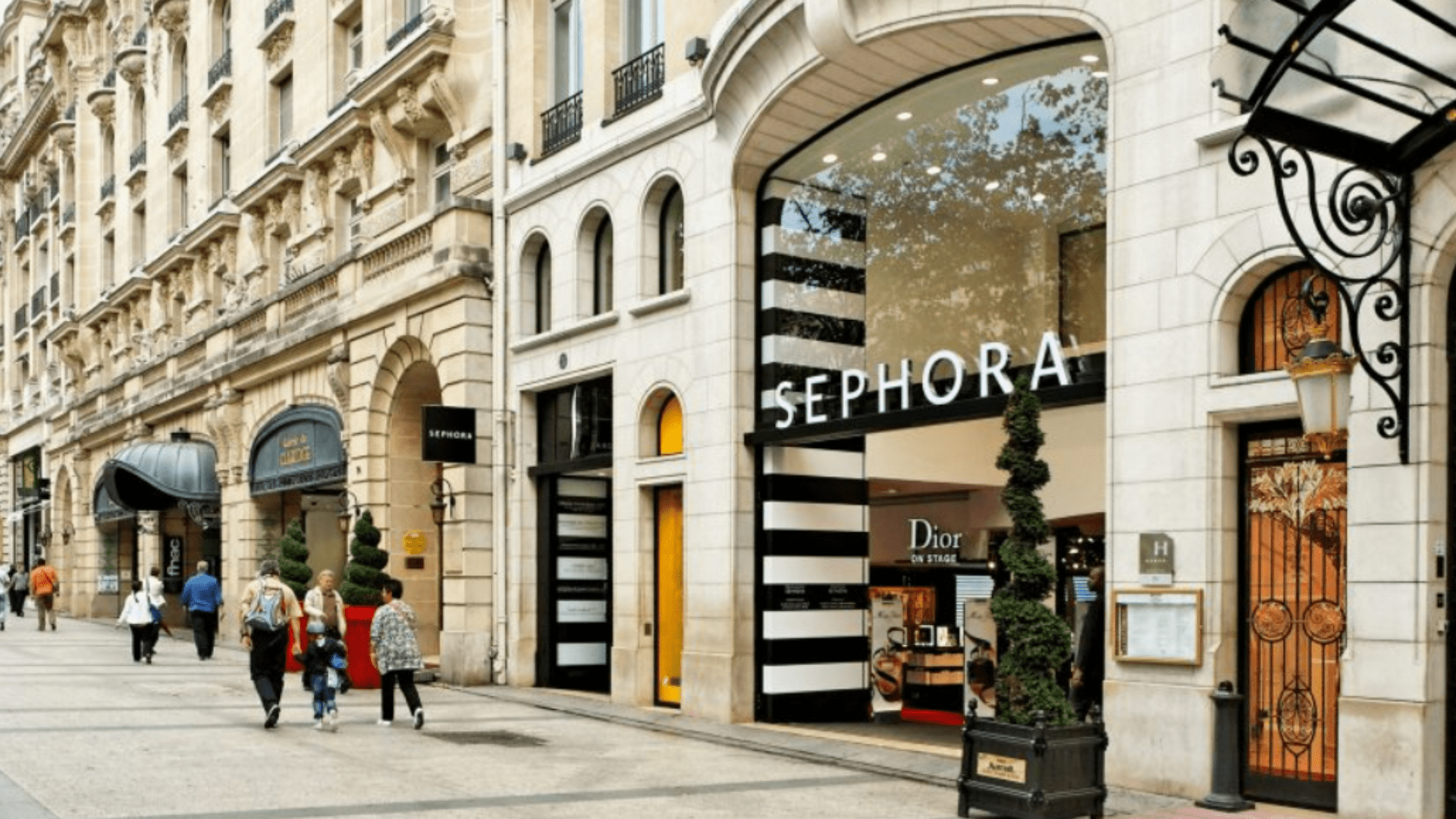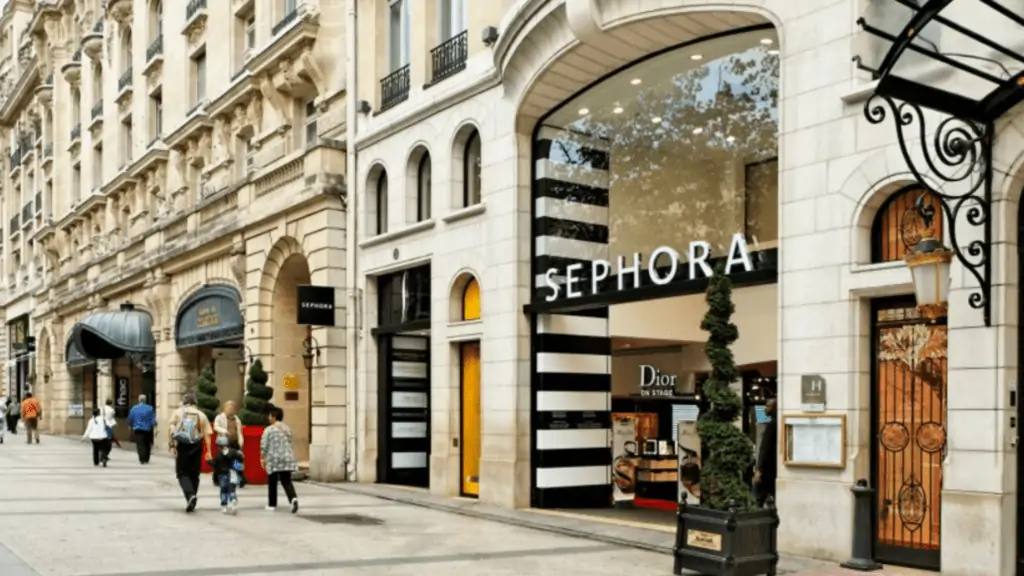 Who Owns Sephora
Sephora is owned by LVMH Moët Hennessy Louis Vuitton, commonly known as LVMH. Founded by Henri Racamier and Alain Chevalier, the French company serves as a parent to multiple luxury companies, including Louis Vuitton and Dior.
Sephora is currently run by present CEO Christopher de Lapuente, who has been in office since 2011.
Sephora's Mission Statement
"At Sephora, we believe beauty is for each person to define and ours to celebrate. Together, we support and encourage bold choices in beauty — and in life. Our purpose is to inspire fearlessness". 
How Sephora makes money
The Sephora business model focuses mostly on retail sales and direct-to-customer sales of brand products. 
The combination of Sephora's retailing and its sale of company products either online or in physical stores is how the company makes money.
Retail sales
Sephora earns the majority of its profit from retailing. In 2020 alone, the company accrued up to 5.01 billion U.S. dollars in retail sales in the United States. Sephora's strategy is that it buys products wholesale directly from brands for about 50-65% less than the retail price, then sell the product at the same price said brand sells it, keeping costs the same while earning. Sephora constantly partners with smaller brands, celebrities, and influences to offer its customers new products and attract new customers. Becoming the sole retailer of such businesses is an investment that keeps Sephora's revenue coming.

Sale of brand products 
Aside from selling products from other companies and brands, Sephora carries its own home brand; Sephora Collection. The Sephora collection is famous for offering a variety of beauty products at affordable prices for loyal customers. Its most popular products include the 12-Hour Contour Pencil Eyeliner, Cream Lip Stain Liquid Lipstick, and Face Mask. These products range from prices $ 6-20 and come as a constant source of revenue for the brand.
Sephora's Business Model Canvas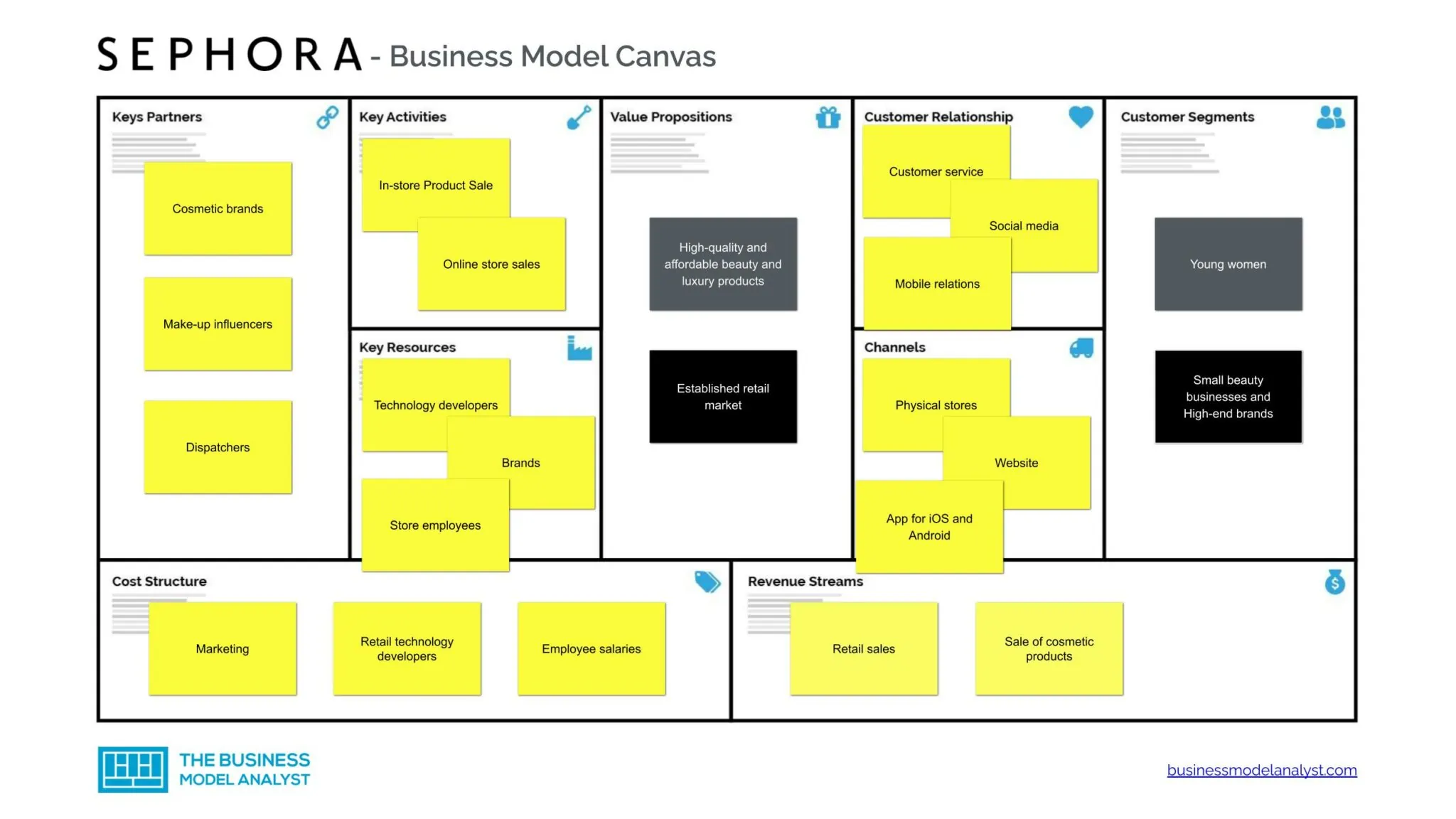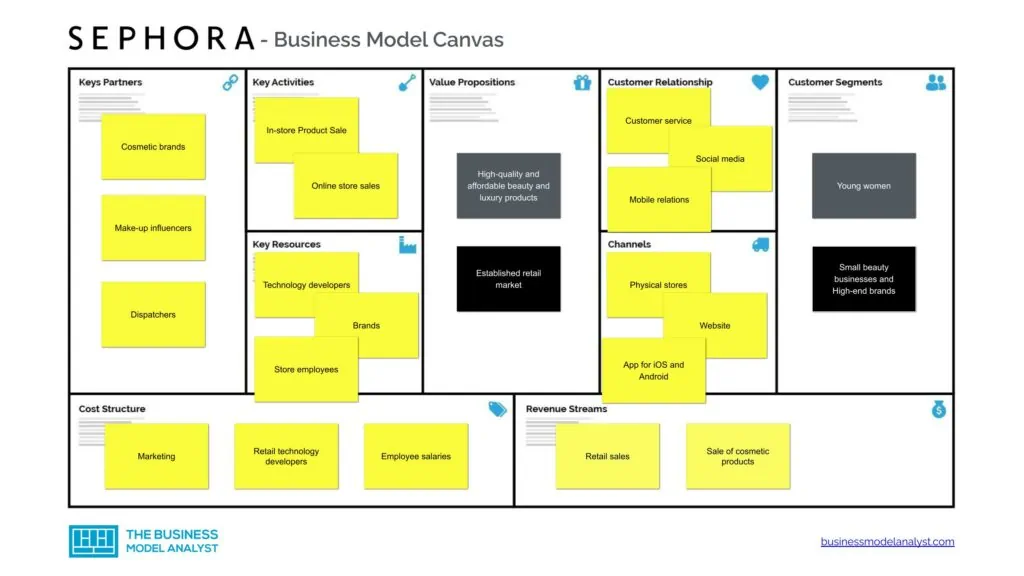 The Sephora's Business Model can be explained in the following business model canvas:
Sephora's Customer Segments
Sephora's customer segment is into two groups:
Consumers: While Sephora targets women of all ages, the primary target demographic is young women between the ages of 18-34 who are technologically literate and desire quality luxury products;
Businesses: Small beauty businesses looking to increase their platform by setting up shop with an already established company and high-end brands looking to expand into a wider market.
Sephora's Value Propositions
Sephora's value propositions consist of:             
Customers: High-quality and affordable beauty and luxury products;
Brands: Established retail market for small promising brands and high-end brands looking to expand.
Sephora's Channels
Sephora's channels consist of:
Sephora's Customer Relationships
Sephora's customer relationships consist of:
Sephora's Revenue Streams
Sephora's revenue streams consist of:
Sephora's Key Resources
Sephora's key resource involves:

Sephora's Key Activities
Sephora's key activities consist of:
Sephora's Key Partners
Sephora's key partners consist of:
Sephora's Cost Structure                            
Sephora's cost structure consists of:
Retail technology developers
Sephora's Competitors
MAC Cosmetics: The abbreviation that MAC stands for is Make-up Artist Cosmetics and, as the name implies, MAC is famous among make-up professionals, actresses, and models. The Canadian brand is one of the biggest names in the fashion industry, and the extensive range of high-quality products it offers keeps loyal customers as well as pulls in new ones;
Macy's: Macy's is a high-value chain of American department stores that sells a variety of fashion products ranging from clothing to jewelry to shoes. One of the products it offers is makeup and cosmetics. Macy's stores are very popular in America, and the reasonable prices of their products attract the same demographics as Sephora;
Nordstrom: Based in Seattle, Nordstrom is an American luxury department store chain, much similar to Macy's. The company is most popular for its clothing, but they serve as a retailer of a variety of makeup, beauty, and perfume brands, including Hermès, IT Cosmetics, and Chanel, all popular names in the industry;
Ulta Beauty: The company was formerly known as Ulta Salon, Cosmetics & Fragrance Inc., and is currently one of the largest beauty retailers in the United States. Ulta is praised for its laid-back environment that houses salon services and drugstore brands, which are attractive to cost-conscious, middle-aged women.
Sephora's SWOT Analysis
Here's a breakdown of Sephora's SWOT analysis: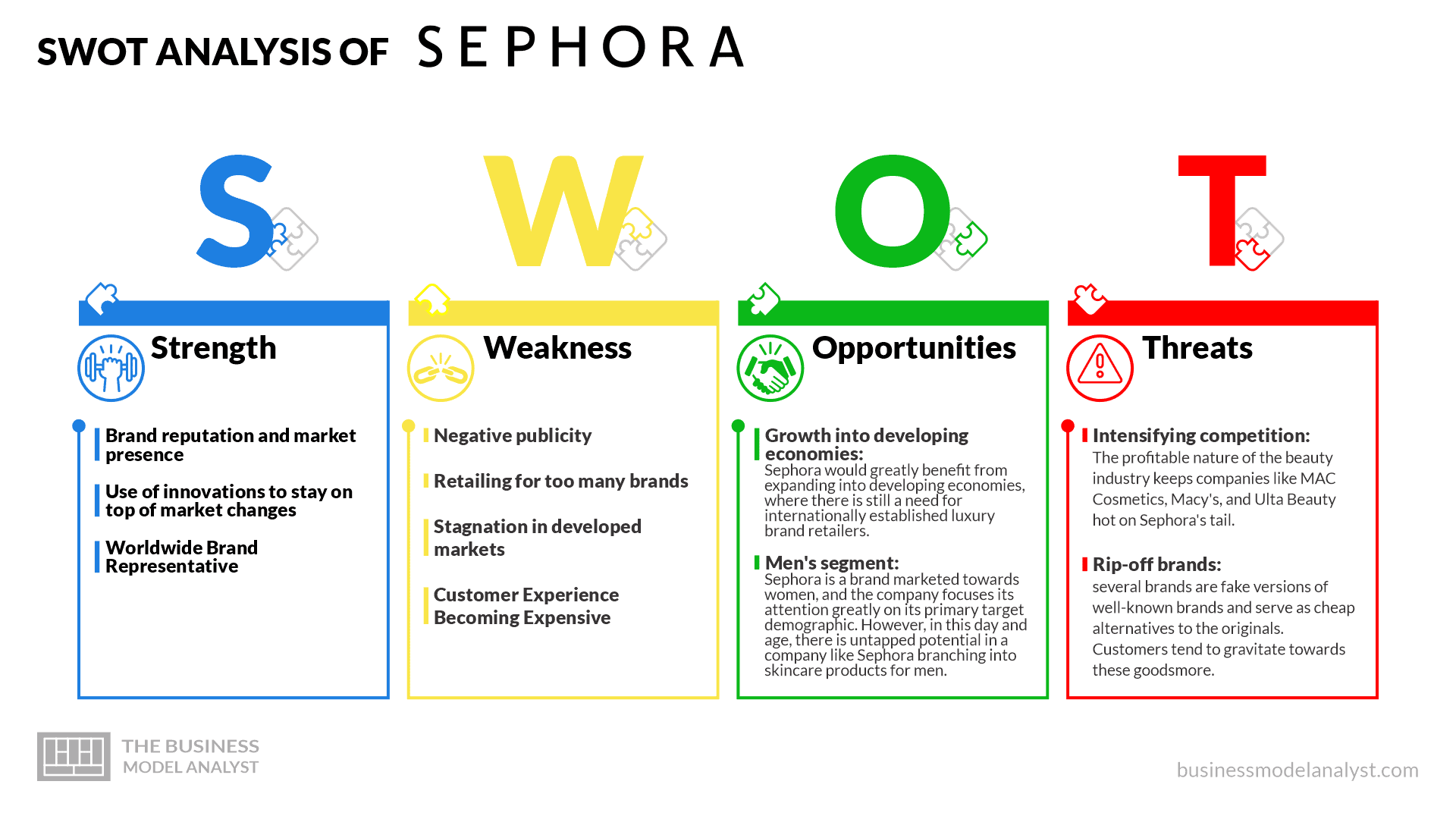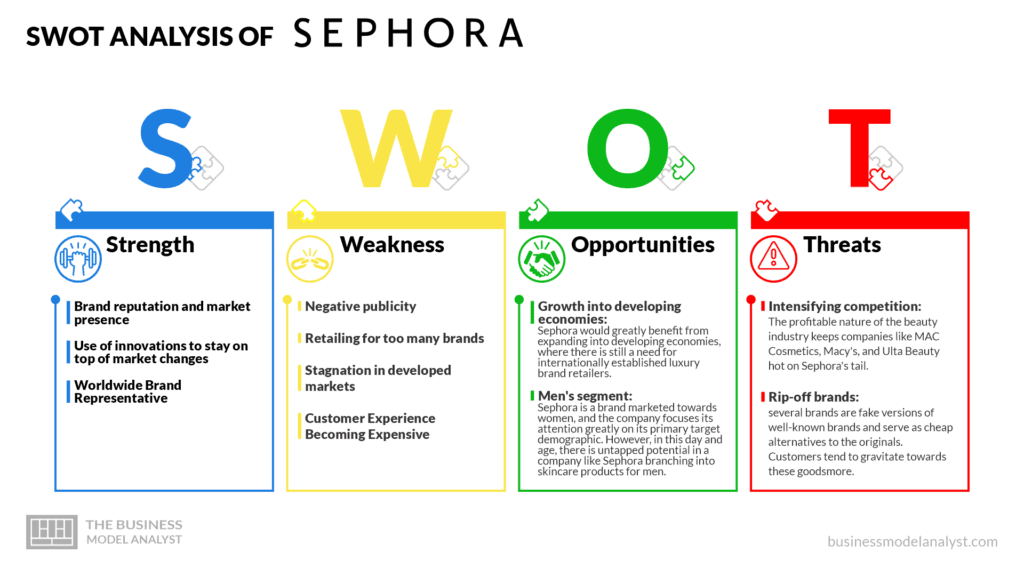 Sephora's Strengths
Brand reputation and market presence: Sephora quickly became one of the biggest names in the beauty industry, and its reputation precedes it. With quality products, brand support, technological advancements in the makeup sector, and the company's firm stance on Human Rights, Sephora not only cemented its place in the beauty brand industry but also became a staple brand for many;
Use of innovations to stay on top of market changes: Sephora's ability to constantly adapt to changing market forces has kept it thriving in the retail industry when others are struggling. Sephora's digital creativity and customer personalization strategies prioritize the customer's shopping comfort above all else. Its agreeable online shopping return policies, 'try-before-but' strategy, unique store layout, and presence of tech-savvy TIP stores all keep it above competitors in this aspect;
Worldwide Brand Representative: Aside from its own brand, Sephora carries over 340 brands worldwide, including local brands from the regions the company operates in. Sephora serves as a platform for these brands — the majority of them being top names in the beauty industry — and offers a variety of make-up, accessories, and bath products.
Sephora's Weaknesses
Negative publicity: In 2020, an ex-Sephora employee took to the internet to accuse the company of staff mistreatment. Sephora has also been hit with racial discrimination lawsuits, has been accused of racial profiling, and has even received internet clap back for poorly naming a lipstick shade. Although Sephora has had many hits through the years, its negative publicity counts as a miss and will affect it more in the long run;
Retailing for too many brands: Sephora is an exclusive retailer to multiple brands and, although its retail practices are one of its strengths, the company ends up being a retailer to brands that are direct competitors to each other. 'Bad blood' between these warring brands harms sales and confuses customers;
Stagnation in developed markets: Sephora is a well-known brand with thousands of stores around the globe, but all Sephora stores are located in already developed economies, leaving them out of the diverse opportunities in developing markets;
Customer Experience Becoming Expensive: Sephora boasts of its unique, tech-enabled marketing practices and customer experience. However, these systems are very expensive to maintain, and constantly pouring money into them may affect the company in the long run.
Sephora's Opportunities
Growth into developing economies: Sephora would greatly benefit from expanding into developing economies, where there is still a need for internationally established luxury brand retailers;
Men's segment: Sephora is a brand marketed towards women, and the company focuses its attention greatly on its primary target demographic. However, in this day and age, there is untapped potential in a company like Sephora branching into skincare products for men.
Sephora's Threats
Intensifying competition: The profitable nature of the beauty industry keeps companies like MAC Cosmetics, Macy's, and Ulta Beauty hot on Sephora's tail;
Rip-off brands: several brands are fake versions of well-known brands and serve as cheap alternatives to the originals. Customers tend to gravitate towards these goods more.
Conclusion
Sephora has successfully shouldered the beauty industry with its innovative retail strategies and use of technologies. Its in-depth knowledge of customers gives the company an edge over its competitors. 
Despite its flaws, Sephora will continue benefiting from the ever-growing profitable beauty and cosmetics market.

link