This Sephora SWOT analysis comprehensively evaluates the company's strengths, weaknesses, opportunities, and threats. Sephora is a leading beauty-retail company based in France. Its unique open-sell environment features an ever-evolving magnitude of emerging and classic brands, including skin, hair care, body products, makeup, and fragrances. Sephora also operates its own private label. 
Sephora is one of France's leading cosmetic and perfume stores, with a solid presence in various regions globally. LVMH Moët Hennessy Louis Vuitton, a popular luxury goods group, owns Sephora. Sephora is regarded as an innovator, following its incomparable collection of prestigious products, impartial expert service, constant innovation, disruptive spirit, and interactive shopping environment. 
Sephora has around 1,900 stores in 29 countries across the globe. It also has an expanding base of more than 200 stores in the Asia Pacific area, including India, Indonesia, Thailand, Malaysia, Singapore, China, and Australia. The company runs its retail network on a stand-alone basis and doesn't grant rights to third parties to utilize the Sephora trademark or run its store concept. Sephora's stores have been letting beauty fanatics worldwide test their products since 1969. 
The brand is committed to offering a wide range of good quality products while keeping up with the latest trends. A SWOT analysis is an effective management framework that enables brands such as Sephora to gauge their brand and performance, compare it against their competitors, and adopt strategic improvements to boost growth and productivity. 
Sephora Strengths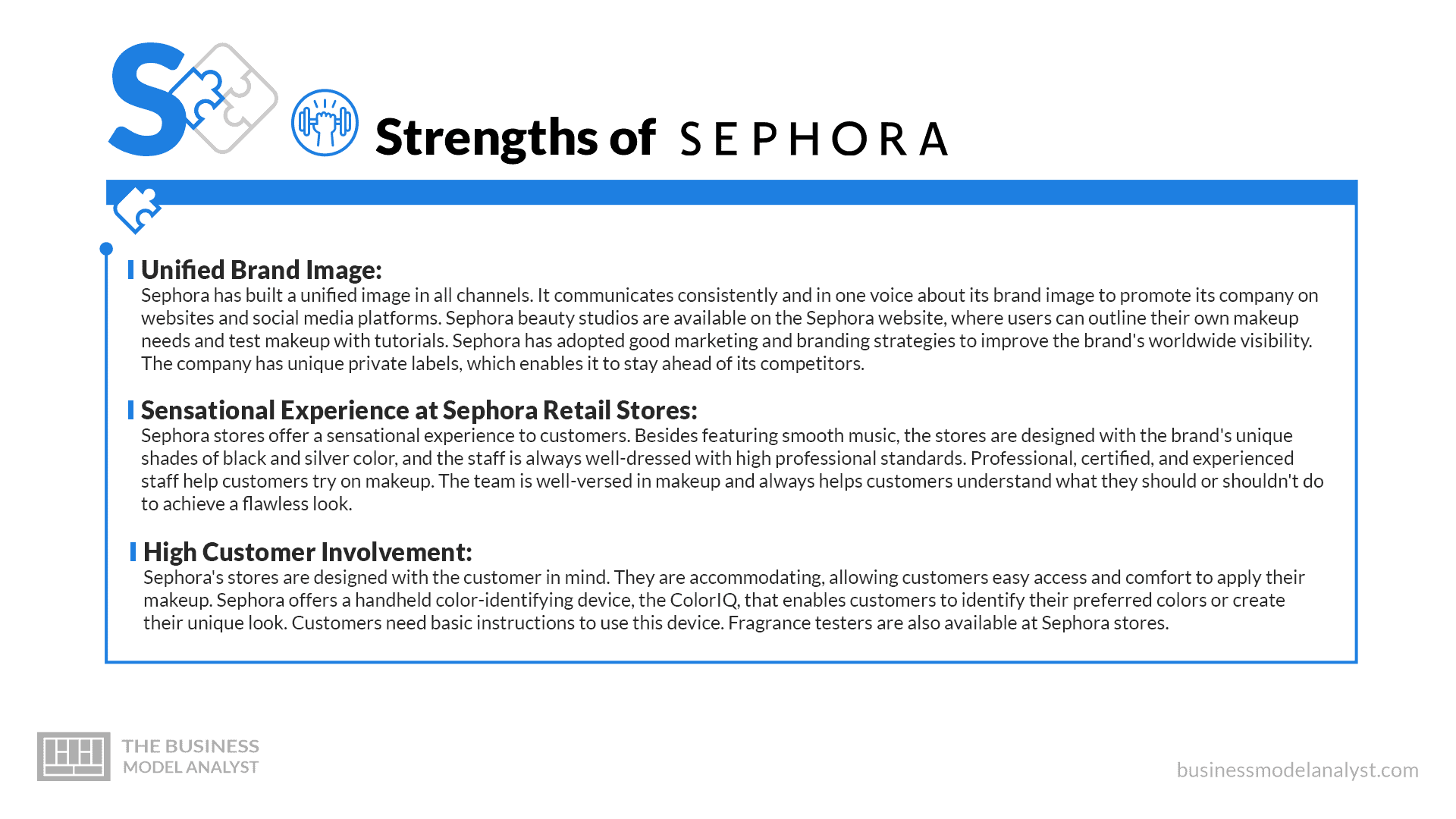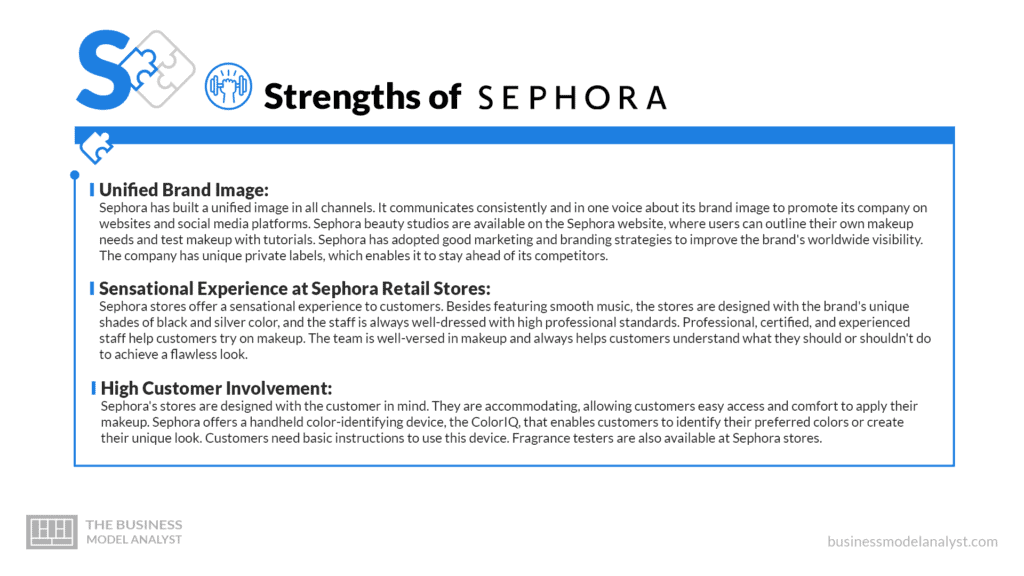 Unified Brand Image
Sephora has built a unified image in all channels. It communicates consistently and in one voice about its brand image to promote its company on websites and social media platforms. Sephora beauty studios are available on the Sephora website, where users can outline their own makeup needs and test makeup with tutorials. Sephora has adopted good marketing and branding strategies to improve the brand's worldwide visibility. The company has unique private labels, which enables it to stay ahead of its competitors.
Sensational Experience at Sephora Retail Stores
Sephora stores offer a sensational experience to customers. Besides featuring smooth music, the stores are designed with the brand's unique shades of black and silver color, and the staff is always well-dressed with high professional standards. Professional, certified, and experienced staff help customers try on makeup. The team is well-versed in makeup and always helps customers understand what they should or shouldn't do to achieve a flawless look.  
High Customer Involvement
Sephora's stores are designed with the customer in mind. They are accommodating, allowing customers easy access and comfort to apply their makeup. Sephora offers a handheld color-identifying device, the ColorIQ, that enables customers to identify their preferred colors or create their unique look. Customers need basic instructions to use this device. Fragrance testers are also available at Sephora stores.
A Vast Range of Products
Sephora has a wide selection of products, including private label brands that sell under the brand name Sephora. Popular brands like L'Oréal, Calvin Klein, Estée Lauder, and MAC Cosmetics are also available in Sephora stores. Further, the company is the sole retailer of top-tier cosmetic brands sold via Sephora stores. Sephora is committed to developing a highly customized fashion experience. Besides cosmetic products, the company has a vast range of accessories, footwear, and apparel to cater to the ever-changing customer demands.
Great Digital Experience
Sephora runs a user-friendly and interactive website and offers various alternatives. Its Beauty Talk segment links customers with makeup experts and other customers. Sephora Virtual Artist is a virtual adventure that enables users to outline their experience by experimenting with various cosmetic options. Sephora Beauty Board has a segment where customers can upload images demonstrating makeup and makeup trends. 
Excellent Working Place
According to Forbes, Sephora was one of the best employers in America between 2018-2021. For three consecutive years, from 2019 to 2021, the company garnered 100% on the Human Rights Campaign's Corporate Equality Index, the national standard tool on corporate practices and policies on employees and LGBTQ. 
Excellent-in-Class Innovation
Sephora has consistently provided excellent-in-class e-Commerce experiences and is committed to satisfying each customer regardless of location. Following the COVID-19 pandemic and the consumer behavior changes it triggered, Sephora adopted various digital alliances that allowed customers to shop conveniently and comfortably. These included Facebook Live shopping, online pick up through Instagram and in-store, and on-time delivery. 
Sephora Weaknesses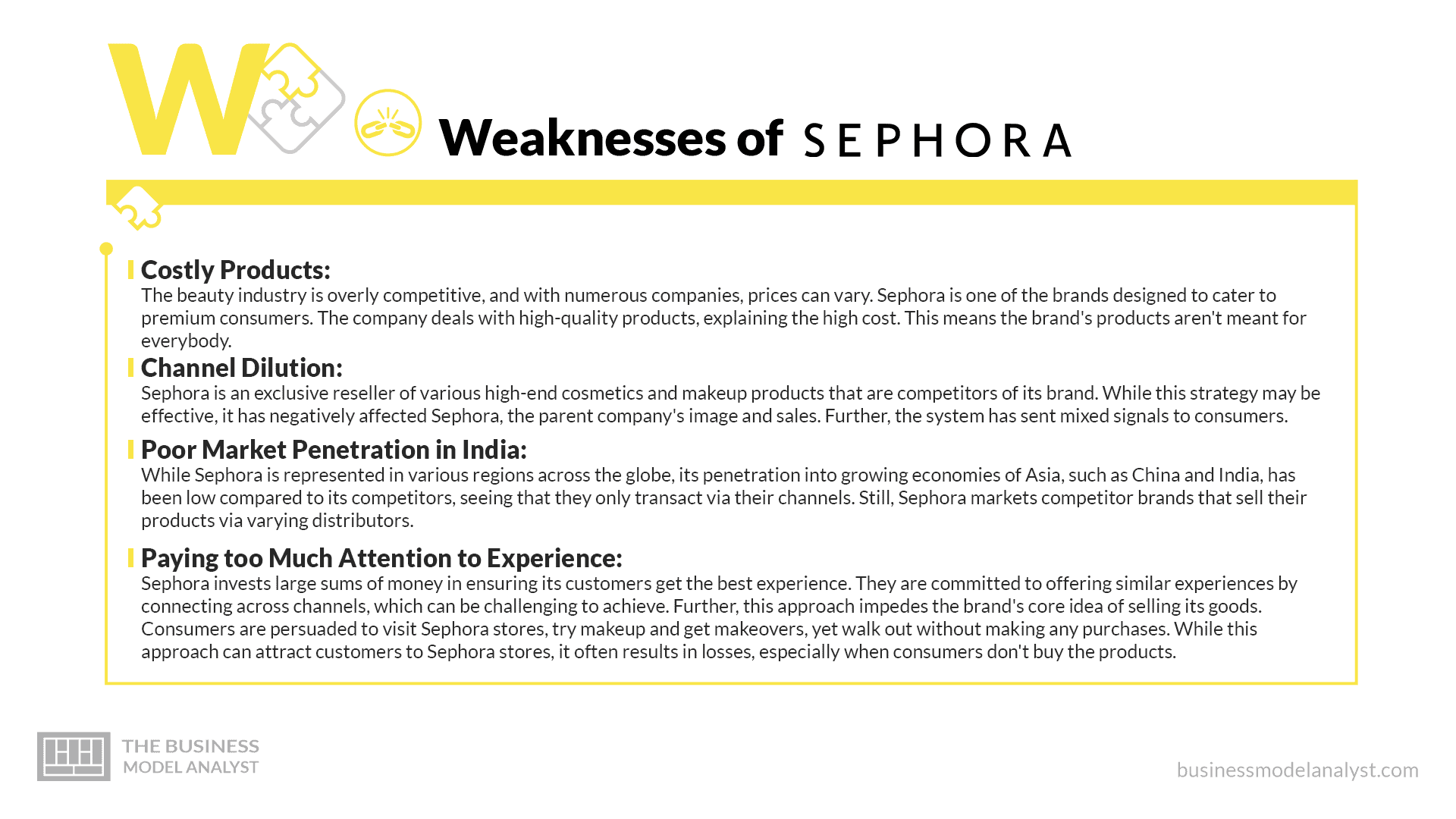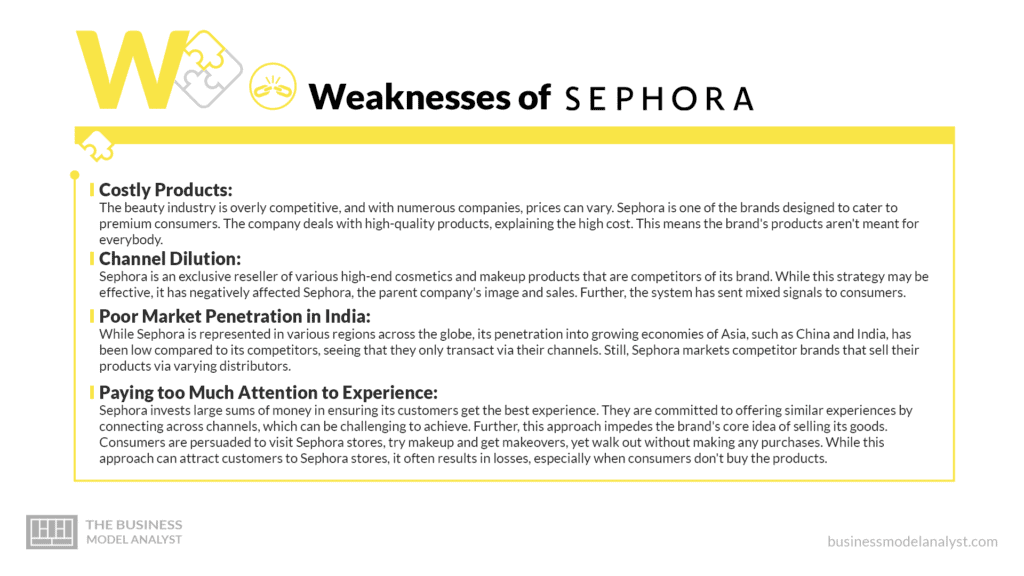 Costly Products
The beauty industry is overly competitive, and with numerous companies, prices can vary. Sephora is one of the brands designed to cater to premium consumers. The company deals with high-quality products, explaining the high cost. This means the brand's products aren't meant for everybody. 
Channel Dilution
Sephora is an exclusive reseller of various high-end cosmetics and makeup products that are competitors of its brand. While this strategy may be effective, it has negatively affected Sephora, the parent company's image and sales. Further, the system has sent mixed signals to consumers. 
Poor Market Penetration in India
While Sephora is represented in various regions across the globe, its penetration into growing economies of Asia, such as China and India, has been low compared to its competitors, seeing that they only transact via their channels. Still, Sephora markets competitor brands that sell their products via varying distributors. 
Paying too Much Attention to Experience
Sephora invests large sums of money in ensuring its customers get the best experience. They are committed to offering similar experiences by connecting across channels, which can be challenging to achieve. Further, this approach impedes the brand's core idea of selling its goods. Consumers are persuaded to visit Sephora stores, try makeup and get makeovers, yet walk out without making any purchases. While this approach can attract customers to Sephora stores, it often results in losses, especially when consumers don't buy the products. 
A High Day's Inventory
When compared to its competitors. Sephora's day's inventory is high, which forces the company to spend more money in the channel. This can negatively impact the brand's long-term growth. Days In Inventory (DII) calculates the time a business takes to generate sales amounting to its inventory's value. 
The metric helps determine a company's sales operations and inventory management competence. Suppose DII is overly high; it can be a sign the business is operating a high inventory, with related risks and costs. If it's excessively low, the possibility of logistical complications and stockout events can increase. A good DII should be between 30 and 60 days to manage inventories efficiently while balancing being understocked with idle stock. However, this varies from one industry to the other. 
High Attrition Rate
Sephora has a high attrition rate than its competitors in the industry. This means the company spends a lot of money on product development and staff training, which can negatively impact its profits. Also referred to as churn rate, it can be about employees or customers. An employee churn rate is when an individual retires or resigns from the company, and the company doesn't fill the position. 
It focuses on the semipermanent or permanent loss of positions and employees over time and the impact of the losses on the company. Attrition rate can impact a company positively or negatively. For instance, when employees resign, a company can save on staffing expenses. However, the workload increases, and the employees left behind must take up those tasks. 
Customer churn is the rate at which consumers stop acquiring services or products from a company. Acquiring and retaining customers is critical for the success of a business, but calculating their churn rate can be difficult.
Sephora Opportunities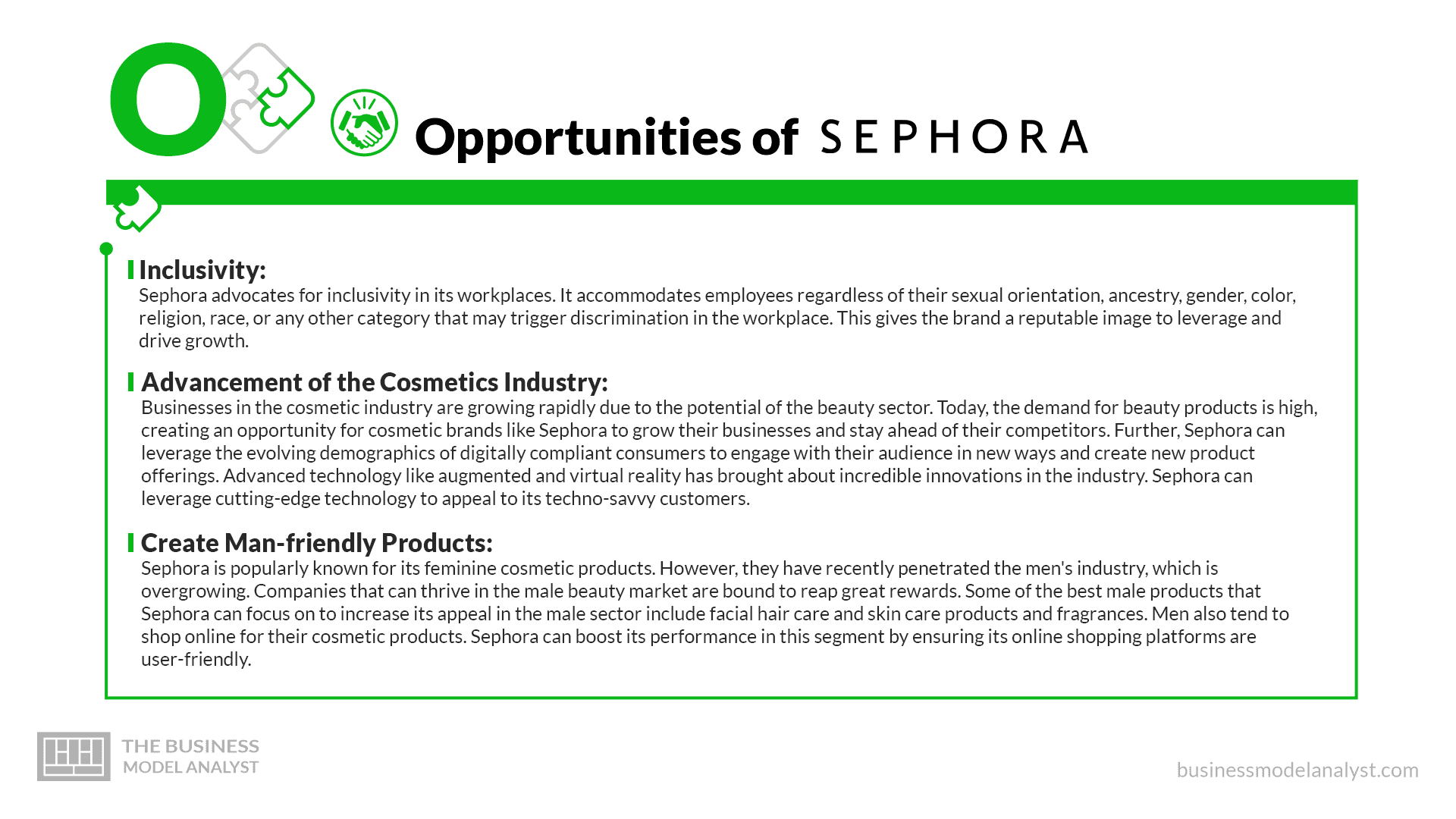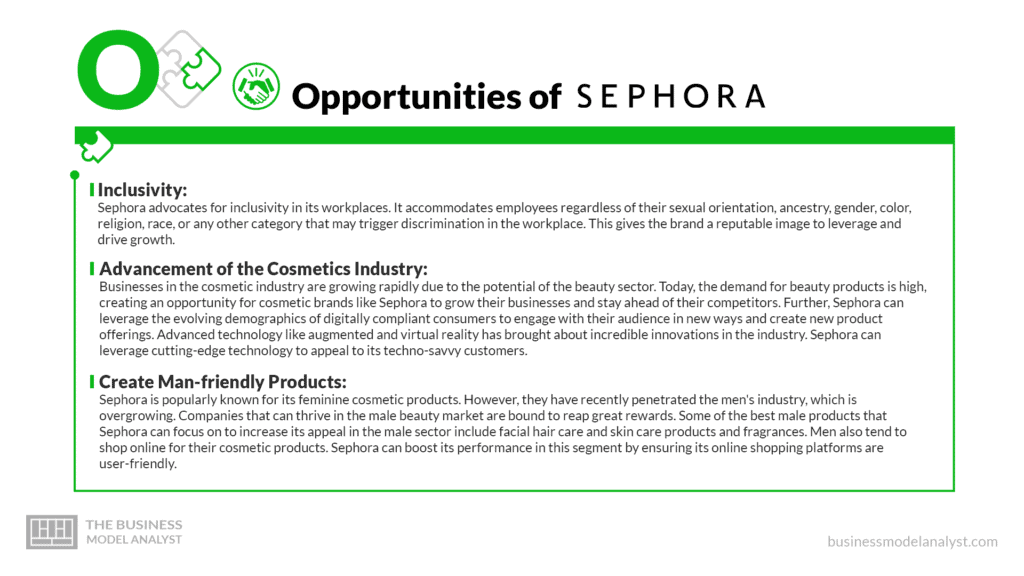 Inclusivity
Sephora advocates for inclusivity in its workplaces. It accommodates employees regardless of their sexual orientation, ancestry, gender, color, religion, race, or any other category that may trigger discrimination in the workplace. This gives the brand a reputable image to leverage and drive growth. 
Advancement of the Cosmetics Industry
Businesses in the cosmetic industry are growing rapidly due to the potential of the beauty sector. Today, the demand for beauty products is high, creating an opportunity for cosmetic brands like Sephora to grow their businesses and stay ahead of their competitors. Further, Sephora can leverage the evolving demographics of digitally compliant consumers to engage with their audience in new ways and create new product offerings. Advanced technology like augmented and virtual reality has brought about incredible innovations in the industry. Sephora can leverage cutting-edge technology to appeal to its techno-savvy customers. 
Create Man-friendly Products
Sephora is popularly known for its feminine cosmetic products. However, they have recently penetrated the men's industry, which is overgrowing. Companies that can thrive in the male beauty market are bound to reap great rewards. Some of the best male products that Sephora can focus on to increase its appeal in the male sector include facial hair care and skin care products and fragrances. Men also tend to shop online for their cosmetic products. Sephora can boost its performance in this segment by ensuring its online shopping platforms are user-friendly. 
Penetrating New Markets
Customers in emerging economies are always prepared to invest in value-adding products. Sephora can leverage this demand to introduce its brand in these emerging economies. 
Excellent Market Knowledge
After being in the industry as a top-tier brand for many years, Sephora has gained tremendous market knowledge, which it can leverage to understand the ever-evolving customer demands and take the necessary action to thrive in the market. Introducing exclusive products for its premium customers will boost Sephora's brand value. 
Sephora Threat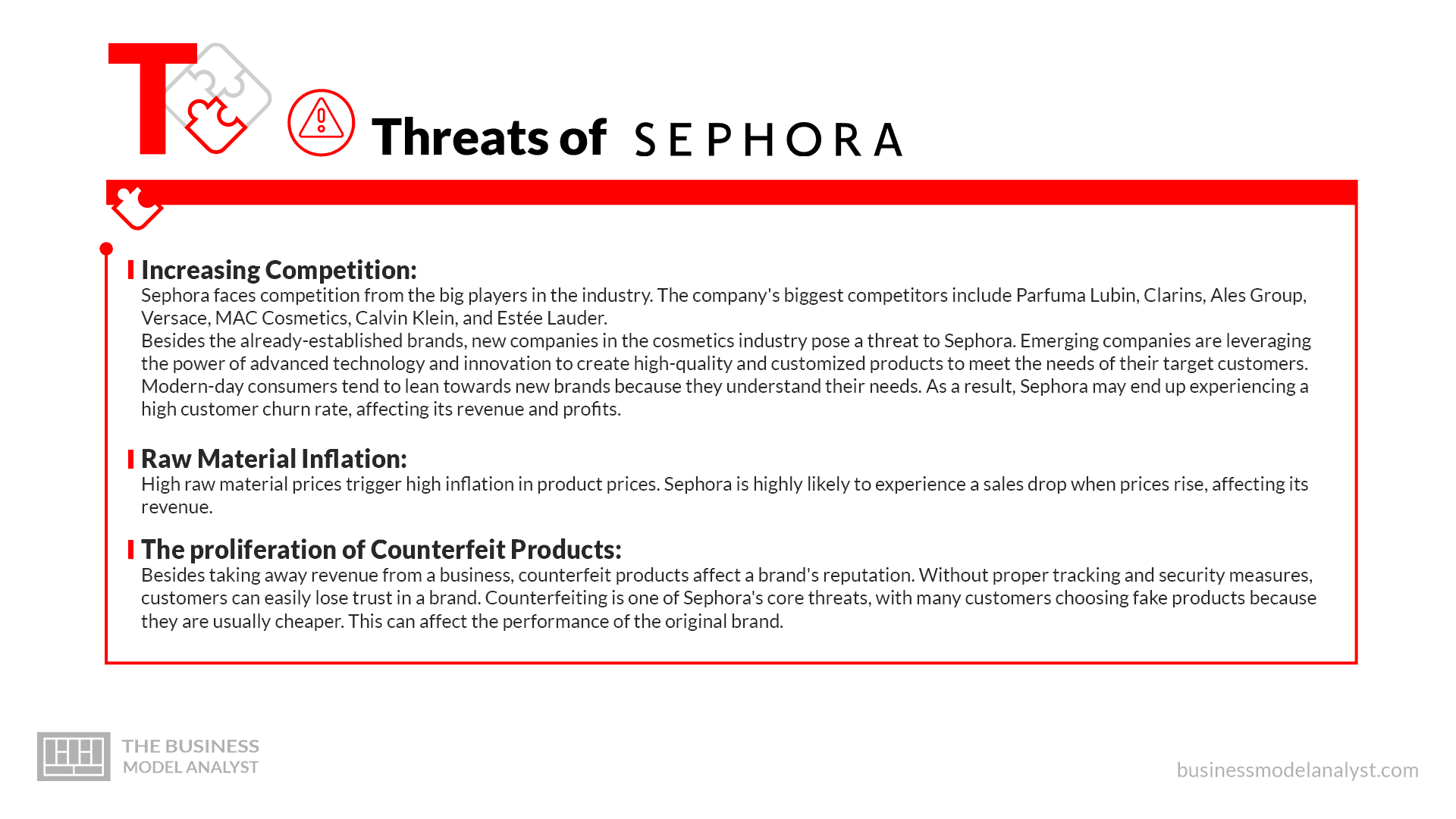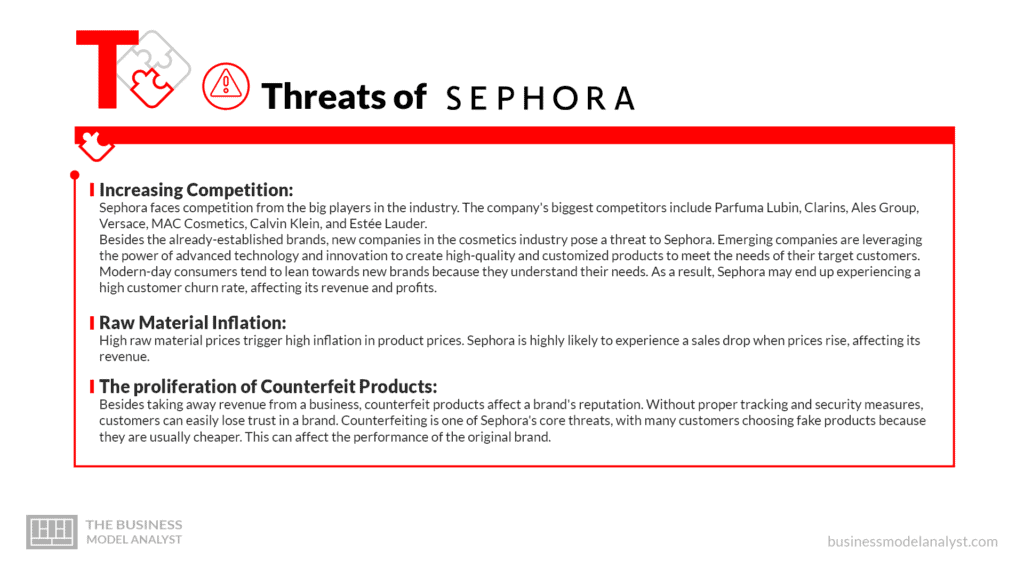 Increasing Competition
Sephora faces competition from the big players in the industry. The company's biggest competitors include Parfuma Lubin, Clarins, Ales Group, Versace, MAC Cosmetics, Calvin Klein, and Estée Lauder. 
Besides the already-established brands, new companies in the cosmetics industry pose a threat to Sephora. Emerging companies are leveraging the power of advanced technology and innovation to create high-quality and customized products to meet the needs of their target customers. 
Modern-day consumers tend to lean towards new brands because they understand their needs. As a result, Sephora may end up experiencing a high customer churn rate, affecting its revenue and profits. 
Raw Material Inflation
High raw material prices trigger high inflation in product prices. Sephora is highly likely to experience a sales drop when prices rise, affecting its revenue. 
The proliferation of Counterfeit Products
Besides taking away revenue from a business, counterfeit products affect a brand's reputation. Without proper tracking and security measures, customers can easily lose trust in a brand. Counterfeiting is one of Sephora's core threats, with many customers choosing fake products because they are usually cheaper. This can affect the performance of the original brand. 
Previous Lawsuits
Sephora experienced various lawsuits a few years ago, negatively impacting the brand. Once a brand's reputation is tainted, customers start doubting its products, resulting in a revenue loss. Lawsuits affect a company in various ways, including decreasing its sales, decreasing its value, and sometimes business failure. A lawsuit forces the business to divert its focus from its success to the case, affecting its productivity. Future lawsuits can cause doubts among the remaining customers against the company. 
Conclusion
Sephora can leverage its opportunities to thrive in an already competitive industry. However, it also faces various threats and risks that it should beware of and implement measures to counter. Sephora collects lots of customer data. The company can leverage this data to create personalized products. 
Modern-day consumer demands are changing fast, with many preferring brands that recognize their needs. Sephora must work towards connecting with its customers to understand their expectations better. Doing so will help them create products that consumers want to use. 
As competition in the cosmetic and beauty products industry rises, Sephora must devise strategies to secure its reputation and maintain the lead ahead of competitors. The company can use the knowledge it gained during its existence to understand its customer's journey. Offering customized products can also go a long way in giving it a competitive edge. So far, 
Sephora has succeeded in rethinking the beauty industry and getting a return from its digital investments. Its adoption of new technologies and evaluation of consumer insights will determine whether it will remain among the leaders in the industry. As more people use digital media today, Sephora must reinforce its digital presence to market its products better and reach a wider audience. 

link