During recessions, there's a phenomenon known as the 'lipstick effect', where instead of splurging on bigger and more expensive items, shoppers will buy smaller items like lipstick as a treat.
At the height of the pandemic when face coverings  became compulsory in public settings, even lipstick sales took a plunge, but as restrictions have relaxed customers have started investing in their self-care routines – including beauty.
The UK beauty market, which was valued at £33.8 billion in 2020, is back in growth with GlobalData predicting a 2% sales uplift by 2025.
And with one of its biggest players – Debenhams – much diminished following its disappearance from the high street in 2020, there is significant market share up for grabs.
Richard Cristofoli, who was director of beauty, marketing and digital at Debenhams until September 2019, says the department store's collapse has shaken up the beauty industry.
Cristofoli, who is now chief customer officer at Freemans Grattan Holdings, says: "I think everyone would agree beauty was probably the most successful part of the Debenhams proposition. It was over a quarter of Debenhams' business."
He says that Debenhams was the number one performer in premium cosmetics and in Cristofoli's time at the business it also overtook Boots to become the biggest seller of premium skincare also.
Debenhams also had an impressive 1.3 million members of its Beauty Club loyalty scheme.
Plugging a Debenhams-sized hole
Unsurprisingly there are many retailers aiming to fill the gap left by Debenhams.
One such retailer is Harrods. Just months after Debenhams' collapse, the retailer revealed it would rollout its standalone H Beauty format.
Since then, the luxury department store has opened five beauty stores, including the recently opened H Beauty at the Metrocentre, Gateshead.
Harrods director of home and beauty Annalise Fard says: "We are so excited to continue building beauty communities around these new cities, each with their own unique beauty cultures, as well as employing beauty-lovers across each community to represent the H beauty brand."
And Harrods is not alone. Next, which bought Marie Claire's beauty format Fabled from Ocado in 2019, has been expanding its beauty offer not just online, but in stores too with the rollout of its Next Home and Beauty format.
Meanwhile, Frasers Group's Flannels opened a new store in Sheffield last July, which was the first to house the Flannels Beauty space.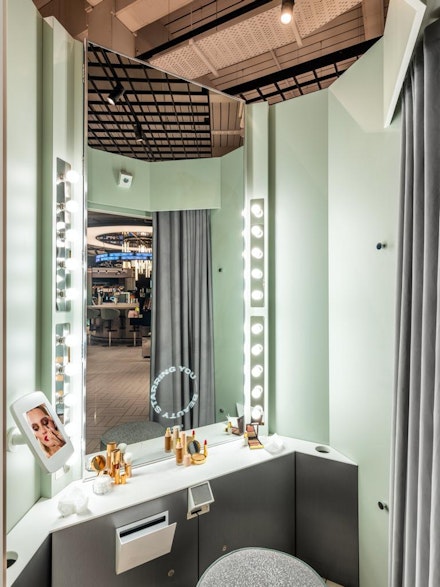 Just a few months later the luxury department store followed this up with an all-new Beauty Edit at its Southampton store, with products from some of the biggest brands in bath, body, fragrance, skincare and cosmetics.
With the vision to disrupt the 'London centric' beauty market, Flannels plans to bring the best brands in beauty to a wider audience, with plans to open up to ten Beauty Edit concept spaces in key regional locations by 2025.
Just this month its new Liverpool store opened with a dedicated 'tweakments' space, offering minimally invasive cosmetic surgery for shoppers in partnership with cosmeceutical brand Esho.
The in-store clinic houses a hydrafacial suite, laser suite and champagne recovery room.
Dr Esho, founder of Esho, says: "Flannels is evolving quickly and definitely disrupting the traditional approach to retail when it comes to its beauty offering. From incorporating the world's first beauty changing rooms to creating a world-leading wellness floor."
He adds that Flannels has made "a truly immersive experience" that will "transform the way we shop for beauty long term".
It's not just premium players that are making a play for beauty.
Sainsbury's has been making over its beauty range, bringing in new brands such as Korres, Burt's Bees and Dr PawPaw, and launching larger beauty departments in stores.
A selection of stores also have specially trained and dedicated beauty advisers, offering expert help to customers on the best beauty products for them. 
The fact that Asda owner the Issa brothers were eyeing buying Boots with plans to open concessions inside its supermarkets shows the level of interest in the category across the grocery sector. 
It's no surprise as the big supermarkets hold a significant slice of the health and beauty market with Tesco trailing just Boots with 13.7% share and Sainsbury's sitting on 6.9%.
The online beauty push
The pandemic stimulated a shift towards online shopping across the board, including in beauty.
Cristofoli says that beauty was "a late adopter to the digital marketplace". When he took over Debenhams' beauty division in 2017 online accounted for just 8% of sales.
"By the time I'd finished my time at Debenhams [in 2019], we doubled it to 16%," he says.
He says that the pandemic has propelled this further because "we're spending more time than we ever have done on screen and on social. That has fundamentally reshaped the beauty market".
There is a raft of online players making waves in the beauty market.
THG is a clear example of this with its strong beauty pffer, where it owns retailers such as Look Fantastic, Cult Beauty and Glossybox, alongside a raft of brands.
Fellow specialists Beauty Bay, Beauty Pie, and FeelUnique, which just last year was snapped up by Sephora for £132 million, are also gaining traction.
Meanwhile, big online department stores such as Very and Freemans are pushing deeper into beauty.
At the beginning of the year Very revealed it had expanded its range of beauty and self-care brands by 94% since the start of the pandemic, in a bid to "meet its customers' growing appetite for wellbeing products".
It has added 77 new beauty and personal care brands since January, taking the category total to 159.
Freemans also launched a comprehensive beauty offer late last year, adding cosmetics, skincare, fragrance and haircare to its website in autumn winter 2021. It has built on this by adding 800 new SKUs from brands such as Olay, St. Tropez, Charles Worthington and Sanctuary Spa for spring summer 2022.
Cristofoli argues that the desire for in-store advice in beauty halls that has been so-important for decades has been eroded over the pandemic.
Meanwhile, technology advances mean customers have visualisation tools to help them find their perfect shade.
Snapchat, for example, has augmented reality filters that allow users to switch through virtual make-up looks.
This year it launched AR shoppable filters for Ulta Beauty and MAC Cosmetics, allowing shoppers to test out products from their phone.
As such technology becomes more sophisticated, Cristofoli says that we will see the rise of more digital platforms tapping into beauty as well as traditional retailers incorporating tech to offer shoppers enhanced experiences.
The rise of the beauty brand
The rise of social media and influencers has also changed the "old established trajectory within beauty", says Cristofoli, and has stimulated a "rapid rise and rapid growth digitally of niche and exciting new, innovative brands, but also a much less high level of brand churn".
He argues this makes beauty a more exciting sector, both for retail and consumers. "Smaller niche brands make it an interesting marketplace to be in," he says.
GlobalData sector head for health and beauty Sofie Willmott says over the last few years more consumers have shifted to buying direct from beauty brands.
She explains that brands have been investing more in their own stores and websites, and since the pandemic, GlobalData has seen online account for a bigger proportion of total sales, which could suggest that more beauty customers are shopping direct with brands.
"There's definitely more investment there," she adds, highlighting features such as online chat services and livestreaming that beauty brands have pushed into.
Wilmott argues that shoppers have shifted their spend towards brands as they know their customers better. "When you're a multi-brand retailer like Boots, for example, it's harder to appeal to a wider audience shopping a variety of different product categories.
Who will emerge as market leader?
The proliferation of new brands and growth of specialists and traditional players targeting beauty has led to a more fragmented beauty market.
"I think therefore somebody really dominating is much harder, both at a brand level and at a retailer level," says Cristofoli.
Willmott agrees that Debenhams market share will have been spread around retailers.
She says current market leader Boots, which held 18.1% market share in health and beauty last year, will be taking some of it, especially in its revamped stores with beauty halls.
"Those stores look really strong and they've got a lot of new exciting younger brands in there, which are in demand and appealing to consumers."
Amid the current cost-of-living crisis, Willmott adds that Boots' new Price Advantage, which gives its many Advantage loyalty card holders lower price, will help it grow loyalty over the next year.
This, in tangent with Boots' pledge to freeze the prices of over 1,500 products until the end of the year, should help attract budget-concious beauty shoppers.
As shoppers tighten their purse strings, Wilmott predicts that grocers and discounters are "definitely going to gain share this year" as shoppers cut back and switch to own-brand beauty brands.
We may be seeing a return of the lipstick effect but as inflation soars to its highest rate in 40 years, that lipstick may be from No7 rather than Chanel.
Click here to sign up to Retail Gazette's free daily email newsletter
link