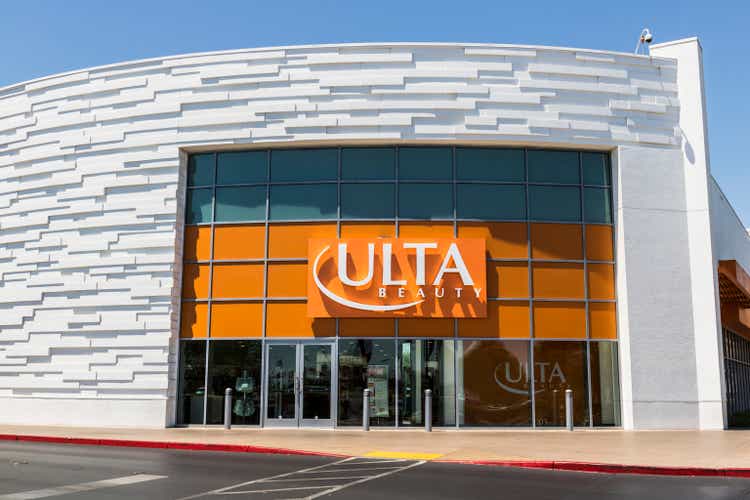 Ulta Beauty (NASDAQ: NASDAQ:ULTA) is the largest beauty retailer in the United States. ULTA was able to bounce back from COVID-19 and adapt its customer offering. Its loyal customer base and strong brand, coupled with a growing store count and stellar financials, make ULTA a stock to own. However, at its current price, there might not be enough upside for potential shareholders.
Overview
Ulta Beauty is a beauty retailer in the United States that engages in the selling of cosmetics, fragrances, skincare products, hair care products, and salon services. With 25,000 products on its shelves sporting over 600 different beauty brands, ULTA is a "one-stop-shop" for all things beauty. As of 2021, Ulta operated over 1,300 stand-alone stores across America.
The main driver of Ulta's sales is driven by its cosmetics segment, accounting for 43% of all revenue. However, with Ulta's commitment to driving growth in its other segments, this number was at 51% just two years ago. Other sources of revenue include haircare, skincare, and fragrance/bath.

Ulta stores are primarily located in high-traffic strip centers and stand at an average of 10,000 square feet, 950 of which are dedicated to Ulta's full-service salon where customers can get their hair and eyebrows done.
Overcoming COVID-19
COVID-19 brought on a dramatic shift for retailers in March 2020, as lockdown regulations and stay-at-home orders shocked the global economy. One of the hardest-hit sectors included retail and well-known companies including J.C. Penny and GNC filed for bankruptcy. Factoring in work-from-home and shutdowns of public establishments, Ulta seemed to be doomed. After all, who would want to spend money on cosmetics and fragrances when you are staying home all day. As depicted by the price chart below, ULTA lost over 50% of its value from July 2019 to March 2020.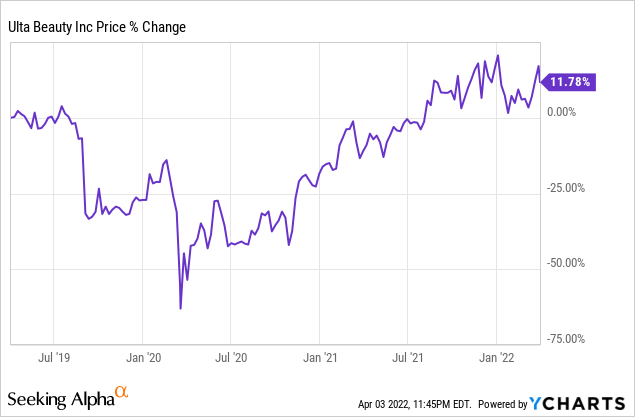 However, while sales and EPS took a hit, Ulta poised itself to weather the COVID-19 storm. Unlike many retailers in 2020, Ulta Beauty did not have any debt on its balance sheet. As Peter Lynch quotes in his book One Up On Wall Street, "companies that have no debt can't go bankrupt." Therefore, while Ulta Beauty's revenue and earnings growth turned negative, there was no risk of bankruptcy for America's largest beauty retailer. Rather, instead of simply trying to survive, Ulta managed to adapt to the COVID landscape through engaging customers digitally and partnering with America's 8th largest retailer (hint: bull's eye logo) to expand their reach and drive more traffic.
The Bull Case For Ulta
Strong and Loyal Customer Base
Since its inception, Ulta Beauty has cultivated a large community of beauty enthusiasts through its best-in-class Ultamate Rewards Loyalty Program. To date, Ulta has over 37 million members enrolled in its loyalty program. In addition to that, these members account for a whopping 95% of Ulta's sales – proof that it has truly created a strong community of loyal customers that continue to shop at Ulta as their beauty store of choice. ULTA has grown the number of loyalty members at a whopping 9yr CAGR of 14% (see chart below).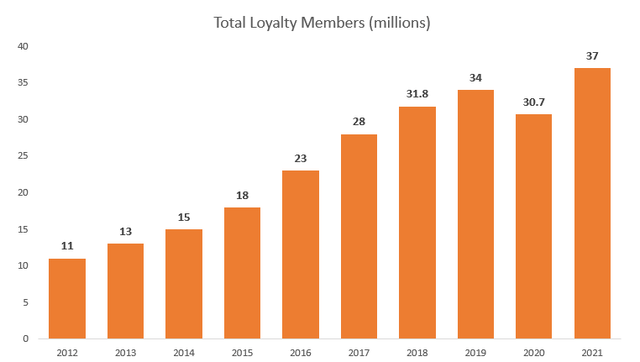 While Ulta lost slightly over 3 million members due to the pandemic, they rebounded from COVID-19 by adding 6.3 million new members from 2020 – meaning they didn't just recover lost members from COVID, they added more. As Ulta continues to grow its customer and member base, the company has been able to leverage tons of data to gauge consumer preferences and understand exactly what customers want. Through this, Ulta has continued to innovate by creating a memorable shopping experience and driving innovation through digitization. Ulta's commitment to creating the best shopping experience for its customers spans deeply through utilizing AI, Augmented Reality, personalized videos, chatbots, and much more.
Interestingly enough, internal member data from Ulta portrays that 75% of loyalty members only transact in Ulta Beauty stores. As a cosmetics business with a salon where customers try on different brand samples and get their hair and eyebrows done, this makes sense. However, with an evolving retail landscape, Ulta is not resting on its laurels. As mentioned above, the company is committed to providing a full omnichannel experience for customers for two core reasons – 1) to generate direct channel sales and interact with customers 2) to drive additional traffic to their stores and website.
Some may wonder why Ulta focuses extensively on its omnichannel when 75% of members shop only in Ulta retail outlets. Well, the 17% of members that Ulta classifies as "omnichannel customers" historically spend 3x more money at Ulta than "retail-only guests". Hence, Ulta's ability to create an omnichannel ecosystem with a physical and digital presence will increase customer engagement and drive sales.
Growing Store Count and Same Store Sales
As an avid Peter Lynch fan, I am compelled to quote him once again – this time from his book Beating The Street:
In a retail company or a restaurant chain, the growth that propels earnings and the stock price comes mainly from expansion. As long as the same-store sales are on the increase (these numbers are shown in annual and quarterly reports), the company is not crippled by excessive debt, and it is following its expansion plans as described to shareholders in its reports, it usually pays to stick with the stock.
Ulta Beauty fits the criteria for a Peter Lynch appropriate retail investment. Same-store sales (SSS), also known as comparable sales, is a metric that gauges sales of existing stores a business has operated over one year, excluding any new store openings. If SSS is positive, it means that the company is not solely reliant on opening new stores to generate more revenue. Over the past decade, Ulta's same-store sales only turned negative in 2020 due to COVID-19. As depicted in the first bar chart below, SSS was the highest ever in 2021 as Ulta Beauty and the entire retail industry bounced back from demand shocks caused by pandemic restrictions. Comparable sales for Ulta are primarily driven by two factors – average ticket (amount of sales per customer) and transaction volume (amount of transactions). The second chart below shows the percentage change in each year from 2013 to 2021.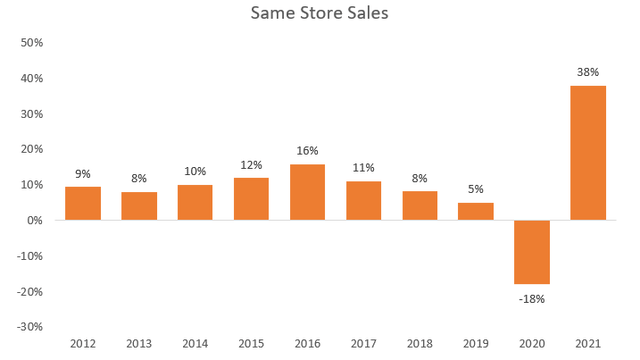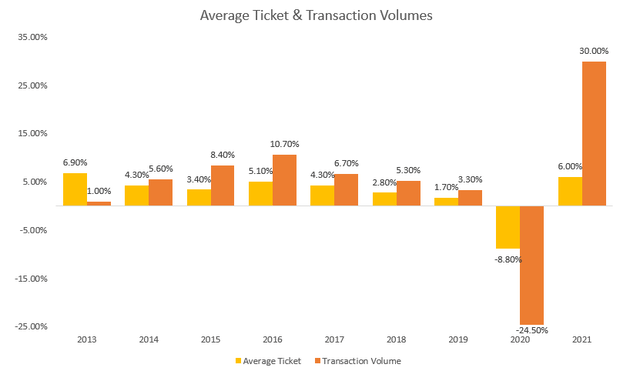 In addition to positive SSS, Ulta has grown its store count from 550 in 2012 to 1,308 in 2021. The twin engines for Ulta's revenue growth over the last decade resulted from a combination of adding new stores and ensuring its existing stores were generating more revenue than they did the previous year.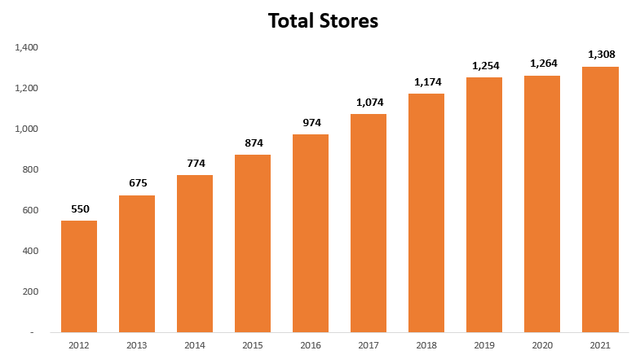 Stellar Financials
Ulta Beauty's presence as America's largest retailer is backed by some exceptional financials. With a zero-debt balance sheet coupled with increasing sales and a growing store count, there isn't much to dislike about the company's financial statements.
As a long-term debt-free company with a healthy amount of cash and equivalents on its balance sheet, Ulta has very strong working capital (see below).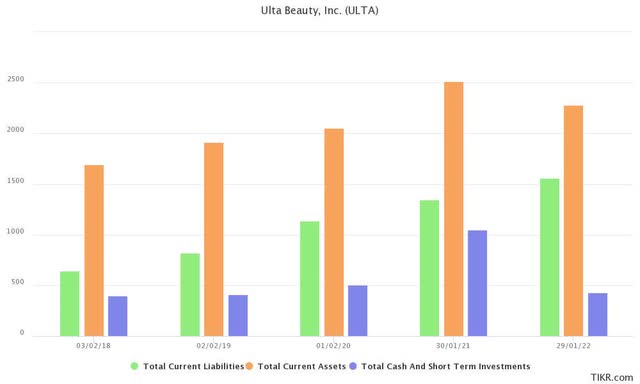 Over the past 10 years, Ulta Beauty has posted double-digit revenue growth in all but one year (2020), growing its top line at a 17% CAGR. Ulta's bottom-line growth is even more impressive, with earnings growing eight-fold over the last 10 years at a superb 23% CAGR. Ulta most recently posted $986 million in earnings off $8.63 billion in revenue for F'21 (see chart below). The retail industry as a whole is known for its razor-thin margins, as exemplified by Walmart's (NYSE: WMT) 2.4% and Costco's (NASDAQ: COST) 2.6% profit margins. While Ulta Beauty does operate a different business model as a specialty retailer, CSI Market reports that the average net margin for specialty retailers sits at about 6.19% as of Q3'21. Ulta's net margin for the full year of 2021 was 11.42%, almost double the industry average and growing.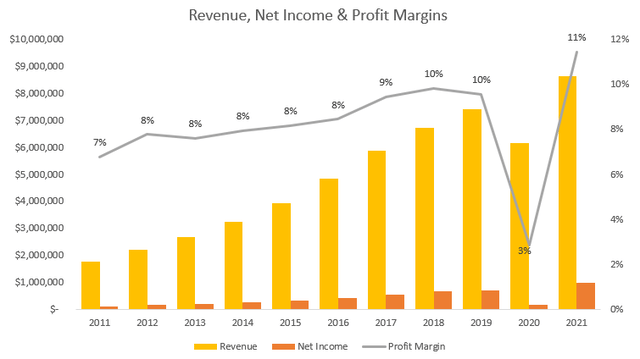 Valuation
Ulta Beauty is currently trading at a trailing P/E ratio of 21.7x, the median of the peer group stocks identified below – Nordstrom (NYSE: JWN), LVMH (OTCMKTS: OTCPK:LVMUY), Sally Beauty Holdings (NYSE: SBH), and Macy's (NYSE: M). While Sally's and Macy's seem excessively undervalued, revenue and earnings have been relatively flat over 4 years, justifying their lower industry multiple.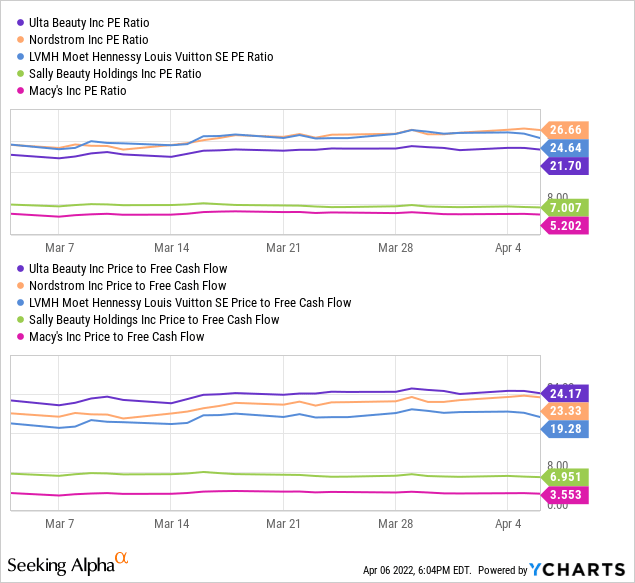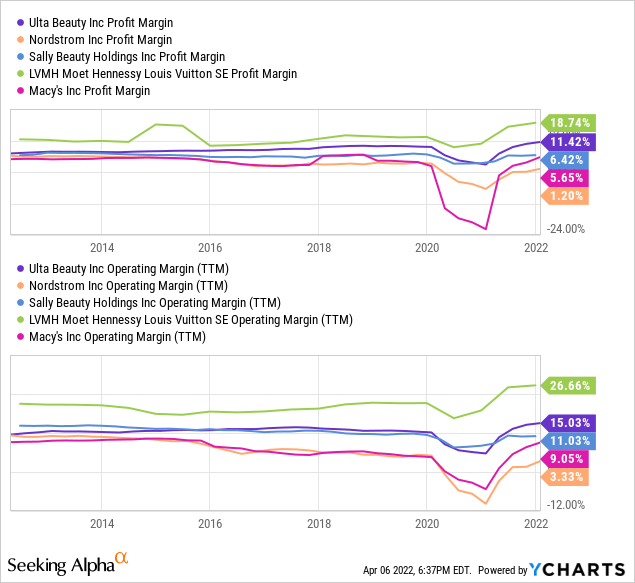 The figure above shows that Ulta has the second to highest operating and net margins of the peer group, trailing only LVMH. With that being said, LVMH has benefited significantly from economies of scale as it is ~17 times the size of Ulta in terms of market capitalization (adjusted for USD). However, compared to the SPDY S&P Retail ETF (NYSEARCA: XRT) which trades at 11x earnings, Ulta does seem expensive on a relative basis. As a specialty realtor with superb margins and industry leadership, a slight premium multiple is perhaps warranted. Hence, based on the data above, I believe that Ulta is a fairly valued business trading at a reasonable multiple.
Risks and Catalysts
Catalyst – Target Partnership
In 2020, Ulta Beauty announced a long-term partnership with Target (NYSE: TGT) to introduce a "shop-in-shop concept." The partnership gives Ulta the right to approximately 1,000 square feet of space in Target stores to mimic the Ulta retail experience. The partnership began in the second half of 2021, and as of year-end, there were approximately 100 "Ulta at Target" locations. As America's eighth-largest retailer by revenue, the success of the Target partnership will likely have a significant impact on Ulta's stock price in the short-medium term. Ulta's management seems extremely confident in this new partnership, indicating there could be an Ulta presence in up to 800 Target locations over the long run.
Catalyst – Share Buybacks
Since 2014, Ulta has been a prudent capital allocator via buying back stock. By reducing the number of shares outstanding for 7 consecutive years, Ulta Beauty has continuously increased the dollar value of repurchases. Most recently in F'21, Ulta authorized itself to buy back up to $2 billion of common stock. As the weighted average shares outstanding decreases, existing shareholders benefit through higher EPS (earnings per share), thereby creating shareholder value.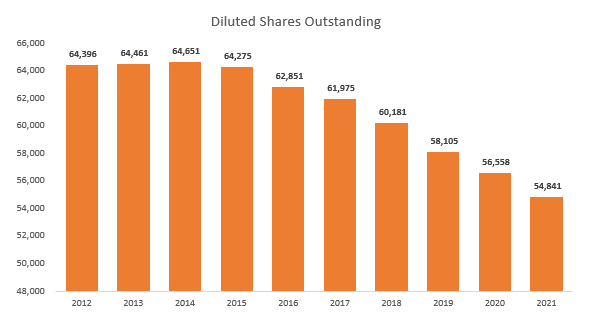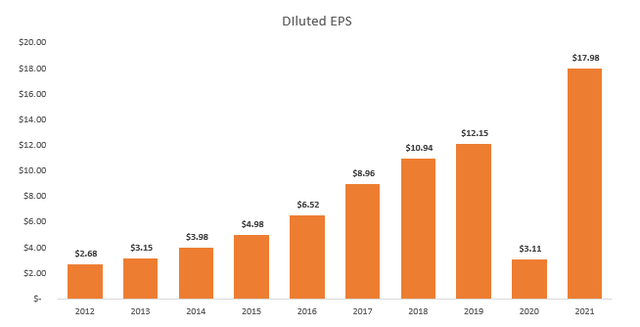 While buybacks are an exceptional way to deploy excess capital, it is important that Ulta ensures that reinvestment into its growth strategies is a priority. As a catalyst in the short-term, buybacks can also create a level of support for the stock during a recessionary period or market correction. Thus, it is important that Ulta does not use buybacks to "artificially" boost EPS, but rather as a tool to create shareholder value after it reinvests any excess cash back into the business.
Risk – Cyclicality
As a specialty retailer that sells cosmetics and beauty products, Ulta is accustomed to market cyclicality similar to the rest of the retail industry. Any economic headwind such as rising unemployment or a decrease in disposable income could alter Ulta's financial results, causing short-term declines in Ulta's stock price. However, as mentioned prior – Ulta Beauty has no long-term debt, reducing the threat of any defaults or bankruptcy.
Risk – Store Growth Guidance
If Ulta is unable to fulfill its long-term growth strategy of increasing store count, this could cause a significant decline in the stock price and contract Ulta's multiple. Going back to Peter Lynch's quote above – "and it is following its expansion plans as described to shareholders in its reports" – it is essential that Ulta follow through on its growth strategy. The probability of Ulta meeting its target is quite high. Historically, Ulta has stayed true to its store growth projections – from 2012 to 2015, Ulta's long-term growth target was to "grow to approximately 1,200 stores in the United States," which it did in fact achieve by 2019. The company's long-term store growth guidance from 2018 to 2021 is to open 1,500-1,700 freestanding stores across America. As Ulta has historically followed through on its goals, shareholders can most likely rest assured Ulta will achieve this target in the coming years.
Final Takeaway
As the leading beauty retailer in the United States, Ulta is a phenomenal business to own. Its growing store count and SSS, coupled with a healthy balance sheet and loyal customer base create a strong competitive position for the retailer. Furthermore, buying back shares and consistently posting double-digit revenue and earnings growth has contributed to creating shareholder value. However, I believe with its current trading multiples that the stock is fairly valued and there might not be room for significant upside at today's prices. ULTA is also trading only 8% off of its all-time high. Therefore, I am implementing a hold recommendation on this company for now as shareholders should perhaps wait for a pullback before initiating or adding to their position.
link