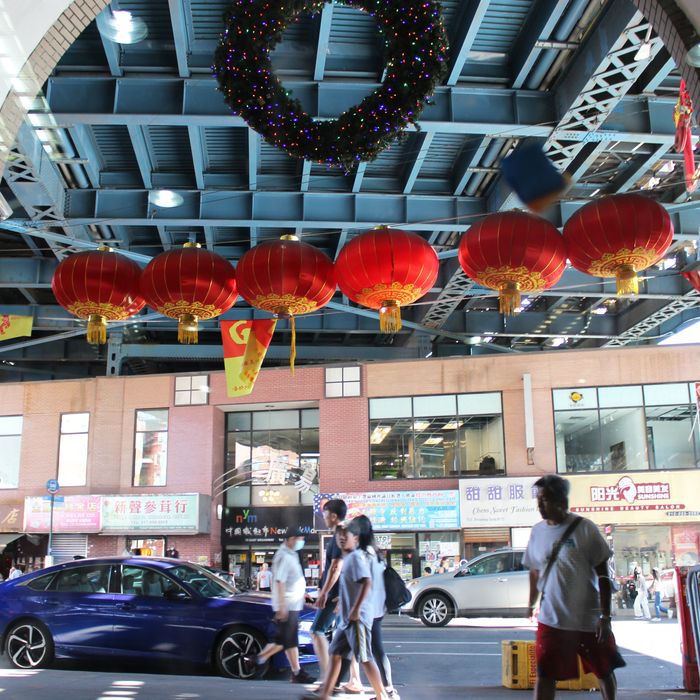 The mini-mall at 75 East Broadway, seen from the arched entrance of 88 East Broadway.
Photo: Sukjong Hong
This article was featured in One Great Story, New York's reading recommendation newsletter. Sign up here to get it nightly.
In 2016, Simon Gabriel was walking around Chinatown, searching for somewhere to open the record shop he had been dreaming about for years, when he noticed two brick shopping centers tucked under the Manhattan Bridge. On the north side was 88 East Broadway, famous for its 1,000-seat dim sum restaurant (and occasional after-hours party venue), 88 Palace, but Gabriel was more intrigued by the mall across the street with its big street-facing windows.
The ground floor of 75 East Broadway was filled with immigrant-run businesses selling Chinese medicine, cosmetics, cheap clothing, and plastic hair accessories. Through the back, there was a Chinese supermarket with an open-air section of fresh produce under the stone arches of the bridge. But it was upstairs where Gabriel found what he was looking for: a nearly vacant grid of small "jewel box" units, as he called them, with floor-to-ceiling glass walls.
It felt like a "cool little corner of Downtown that still feels exciting and fertile," he said. "It made me feel like this is the New York that I've already known." When the shop he was working at, Other Music, shuttered that June after a two-decade run on East 4th Street, he accelerated his plans to open a new shop in the mini-mall, knowing it would be far cheaper than another storefront in the East Village.
It turned out the mall's management company, Winking Group, was looking for people like Gabriel. As one of its brokers told the Bowery Boogie news site that summer, it was "looking to re-create the identity of this mall and hopefully bring some galleries that are looking for small/large spaces or finding working office tenants." Gabriel became the first to sign, for a 180-square-foot corner space on the second floor where he opened 2 Bridges Music Arts with an "amazing view" of East Broadway. "Everything came together," he said.
He was acutely aware that he was the mall's first non-Chinese tenant, and he tried to befriend the clerks at the other shops. But only two clothing sellers and a small pharmacy remained on the second floor. "They're not super-fluent in English," Gabriel said, "but we would talk. They would come visit, and we'd hold each other's packages." Sometimes, workers from downstairs would come up to the second floor to smoke. Gabriel hung a sign in the window with his store's name in Chinese and priced things affordably, hoping local immigrant shoppers would come by.
But they rarely did. Instead, 2 Bridges, which he marketed through Instagram and word of mouth, attracted cultural connoisseurs and art-world types who were drawn to Gabriel's avant-garde curation. As he described it, his shop presented music "as an entry point for experimental modes of consciousness." It was also the start of the mall's transformation. In the following months, Winking Group began leasing neighboring stalls to art galleries like Tramps, which took over ten of them, and designer-clothing stores where items were priced in the hundreds of dollars. It annoyed Gabriel. "They can afford a real retail space," he said. "They're only doing it because there's an aura here that they can glom on to."
Two years after he moved in, the bad news arrived: a 50 percent rent increase. "I don't blame them. They saw that this was an opportunity," he said. "At the same time, I felt pretty insulted because I completely changed the economic dynamic of the floor. I felt like I should get a broker's fee." The Winking Group and Gabriel settled on an increase of "around 35 percent," he said, before the pandemic forced his shop to close in 2020. (Winking Group declined to comment for this story.)
What Gabriel experienced was utterly familiar — the real-estate shuffle that happens when a working-class area starts to become "cool" — he just happened to be an early harbinger at 75 East Broadway. Yet the kind of wholesale neighborhood transformation that occurred in Williamsburg and Soho has been slow to arrive in this part of Chinatown. For a century and a half, Manhattan's Chinatown as a whole has hung on thanks to a tight-knit local economy, community-minded landlords, and neighborhood activism that kept the area affordable enough to attract waves of new Chinese immigrants. Long before 2 Bridges opened, both of the East Broadway mini-malls were vibrant anchors of the Chinese diaspora and necessary destinations for the newly arrived from Hong Kong and Fujian. But now, most of the original businesses have vanished, and the buildings have become bellwethers of Chinatown's decline and, to others, symbols of its revival by downtown artists.
The entrance to James Veloria, a vintage shop that opened on the second floor of the 75 East Broadway mini-mall in 2016.
Photo: Sukjong Hong
Today, 75 East Broadway's second floor has the feeling of a cool-kid bazaar, especially because it still feels like a well-kept secret after all these years. Located just a few blocks from the fervently analyzed (and possibly oversaturated) Dimes Square, the mini-mall has no street signage for any of its upstairs shops. There's just a weathered ground-floor directory, mostly in Chinese, with a few tacked-on labels in English to indicate the newer arrivals. Most of the shops upstairs have embraced the low-key aesthetic of the mall, especially its utilitarian paneled walls, which are perfect for hanging art and merchandise. By day, groups of stylish shoppers pace the art galleries and browse the racks at Eckhaus Latta and the vintage store James Veloria; as a stylist summed up the latter, "Basically 99 percent of fashion people in and out of New York shop there." At night, it's not uncommon for opening parties to spill out into the hallways — their attendees young and mostly white, drinking beers handed out from a makeshift bar-lectern.
It's clearly a space people want to be a part of. These include Justin Dechillo and Gery Vargas, a couple in their late 20s and early 30s who began selling vintage furniture like Cesca chairs and Knoll tables on Instagram during the pandemic. Like Gabriel, the pair was dazzled by the unique layout of the second floor, which felt "similar in vibe to a food hall," Dechillo said. But what sealed the deal was the encouragement from other tenants. They thought the concept of the store was "amazing," he added, and "everyone immediately was like, 'You should do it. Move in.'"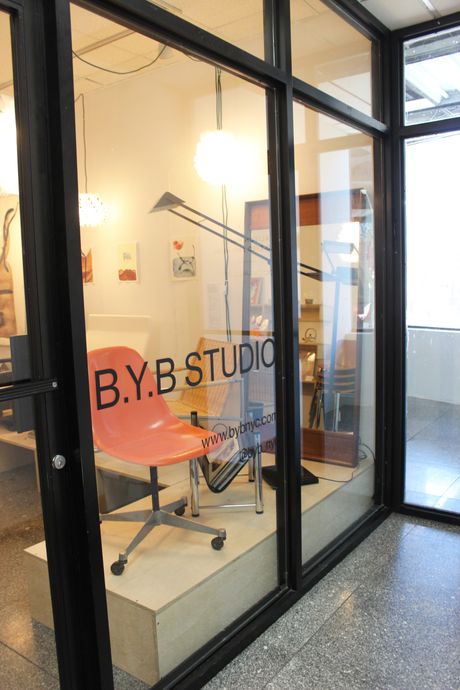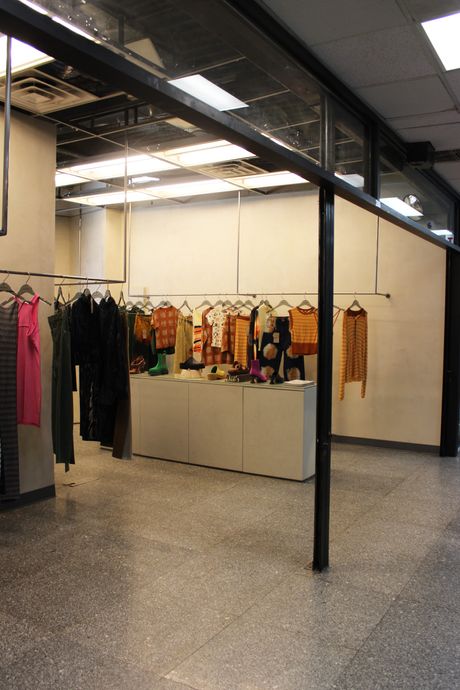 The process was surprisingly quick, and, most important, the rent was cheap. In May, Dechillo signed a trial lease for three months starting in June — $1,600 a month for a windowless, 180-square-foot stall. That's less than $9 per square foot, which is practically unheard of for retail space in Manhattan. But the broker, Gary Chong, was "super happy" to make the deal, Dechillo says. "Like, there was no negotiation." He and Vargas joined two other newcomers: Reliquary Gold, an antique-gold jeweler, and Old Jewelry, an Instagram-only silver shop that had already been written about in The New Yorker. The latter moved in next to Superhouse, a design gallery that had previously only held roving and online shows. Old Jewelry's owner, Sarah Burns, who is also a furniture designer, had gotten to know the second floor after attending gallery shows there years ago and, more recently, after exhibiting her work at Superhouse.
For Stephen Markos, Superhouse's director, the second floor feels like a community. "All the businesses up here are really creative. A majority of them are queer- or woman-owned. And I just don't know what kind of space in the city is like that," he said. He recently expanded to a second stall next to his first one, which just closed a show that paid tribute to a pioneering Soho gallery, Art et Industrie.
The first floor of 75 East Broadway.
Photo: Sukjong Hong
On the first floor, there are no buzzy parties or packed hallways; it's mostly quiet except for the people passing through on their way to the grocery store and the voices of shopkeepers chatting with one another. One is Ms. Zheng, a cosmetics store owner who has been in the mall since it was built in 2000. She pays a little less than $3,000 a month for her first-floor stall. "This mall used to be crowded, vivid, and rich, but now it's so depressing," she said in Mandarin. Chinatown's housing costs have priced out many of her friends and customers, and she feels no connection with the new tenants upstairs. Once, she went to the second floor to peer at the art galleries but felt alienated by the abstract works she saw. "I know the rents are cheap for them relatively speaking, but their galleries seem to be very high-end. Do they think Chinese people will come?" She doesn't see much benefit from the newcomers for her business, either: "Sometimes, very fashionable young people will come in and look around, but they never buy anything."
Still, she conceded, "it's better for them to take the second floor than nobody at all."
Dio Lee, a stocky, middle-aged man who runs a computer-repair business in the basement, has also been at the mall since it opened. Initially, he had a popular first-floor shop that sold authorized DVDs from Hong Kong's top TV-drama studio, TVB. Lines of customers sometimes snaked out the door for new releases, and the nonstop demand was more than enough to cover Lee's $12,000 monthly rent for a street-level storefront, the salaries of six full-time staff, and the Hong Kong studio's $80,000 annual licensing fee.
Lee has done everything he could to hang on through the years. He pivoted from running the DVD store to his repair shop in 2010 and relocated from the first floor to the mall's basement, where he now pays less than $3,000 a month. To cut costs, he mostly runs the business alone — when he has any work at all. When I first met him, he showed me a wall of Gundam Wing anime figurines and a terrarium with a pet turtle he brought in to help pass the time. Once his current lease is up, he told me, he may just turn in his keys. "I've been here too long," he said.
He knows it could be worse. Across the street, the 88 East Broadway mini-mall has been covered in graffiti for years. A leftover Christmas wreath hangs forlornly in its arched entrance year-round. The escalator going up to 88 Palace has been gated off since the restaurant closed in 2020. On the ground, a couple of shopkeepers talk quietly in the echoing space, their conversations shattered every few minutes by the roar of the overhead train. There's not even a security guard; instead, the sentry from 75 East Broadway is paid to take a quick walk over every hour. "88's building as a whole is just horrible," one of the guards, Raya Walker, told me. "There's water dripping every time. You literally go on the staircase and see needles and stuff."
A 2015 performance at Dark Disco, a monthly party that took over 88 Palace after hours.
Photo: Nicholas Rhodes/Corbis via Getty Images
For decades, suburban malls have struggled to stay open as the rise of online shopping has lured away their traditional base of young customers. But in New York City, dense immigrant communities like Manhattan's Chinatown and Flushing have sustained a particularly compact, urban form of the mall inspired by the vertical shopping arcades in places like Hong Kong and Taipei. Often confined to a single building and packed with shops displaying their wares on every square inch of space with a narrow aisle running through it all, the mini-mall has become a mainstay. For Chinatown's immigrant residents, the shopping centers on East Broadway were where you could see your friends, celebrate your birthday, get married, and buy everything you needed.
Initially, it was 88 East Broadway, not 75, that drew the Chinese community. It was the first to be built, in 1988. Called Yi Dong Lou in Chinese, roughly "Eastern Harmony Building," it was a thriving bazaar packed with 80 small businesses in its heyday: employment agencies, barber shops, doctor's offices, and karaoke rooms on the two downstairs floors with a busy banquet hall upstairs, where, on Thanksgiving Day, Fujianese restaurant workers who finally had the day off would hold rounds of weddings. Outside its brick walls, a steady churn of intercity buses ferried workers to distant opportunities and back again. "People in Fujian still know about Yi Dong," said Lu Yong, a restaurant owner in 88's basement. "In the old days when my friends emigrated to America, they knew it was where they had to go. It was the place to be."
Diners at 88 Palace, a dim sum banquet restaurant, when it was open and busy with customers.
Photo: Konstantin Sergeyev
75 East Broadway tried to capitalize on Yi Dong's success and opened more than a decade later. It's known locally as Dong Fang Guang Chang, or "Oriental Plaza." The managers of 88 weren't happy about 75 going up, but in the early aughts, business was good at both malls.
Then the 9/11 attacks cut off Chinatown from the rest of downtown and marked the beginning of the neighborhood's decline. Subway trains skipped Chinatown for months, and the NYPD permanently seized Park Row, severing the neighborhood's direct connection to the Financial District and Brooklyn Bridge. The isolation decimated Chinatown's garment industry, leaving three-fourths of the neighborhood's residents jobless and forcing thousands of workers to leave. Meanwhile, FEMA denied 70 percent of the loss claims from Chinatown's businesses as owners struggled to provide the required documents.
Many businesses were still paying off 9/11 recovery loans in 2012 when Hurricane Sandy hit, leaving Chinatown without power for weeks. Again, there wasn't enough aid, and the community's exodus accelerated: Census data shows Chinatown saw a loss of 22,000 Asian residents in the decade before 2020. Then the pandemic arrived, and the ugly pattern returned — with an added twist of xenophobia. Racism meant Chinatown was hit harder and earlier than other neighborhoods, yet government assistance was slow to arrive, if not completely absent, for many immigrant residents. And an ongoing wave of anti-Asian hate crimes has only intensified for many the feeling that it's time to leave.
Lu Yong, owner of Fu Zhou Wei Zhong Wei restaurant, located in 88 East Broadway's basement.
Photo: Wilfred Chan
Lu is one of just over a dozen tenants left at 88 East Broadway. In the basement, next to a rat-infested trash area, the tables of the restaurant he took over from his father in the '90s are empty. When I first met Lu last fall, he had pared back his menu, once full of Fujianese specialties, to just two things: dumplings and baozi, or steamed buns, which he mainly sells to other restaurants in the neighborhood.
For New Yorkers used to the unrelenting pace of gentrification, the decline of an immigrant shopping center may seem unsurprising, even inevitable. But what differentiates the two mini-malls across the street from each other isn't mere circumstance; it is linked, like many things in the city, to their respective real-estate deals — in this case, their leases with the city, signed just over a decade apart.
A fenced-off escalator leads to the shuttered 88 Palace dim sum restaurant on 88 East Broadway's top floor, above an inactive storefront on the ground floor and a tailor shop in the basement.
Photo: Wilfred Chan
88 East Broadway was just an empty, trash-strewn lot in the early 1980s before a group of immigrants led by a Hong Kong restaurateur named Kwok Ming Chan decided to bid for it at a city auction. They won the rights to manage the site, and the city would keep ownership of the land. Chan's son, Terry, told me his father and his companions built 88 as the first piece in a bigger vision for the area: to transform it from a light-manufacturing and wholesale district into a thriving Chinese shopping corridor. The anchor would be Yi Dong: a "first-class shopping mall" modeled after the compact vertical shopping arcades of Hong Kong.
The 50-year lease they signed in 1985 with the city's Board of Estimates (now the Department of City and Administrative Services) obligated Chan's group, known as the East Broadway Mall Company, to pay for maintenance and an annual rent of $432,000 that would increase by 20 percent every ten years. It also required an annual payment in lieu of property taxes, a.k.a. PILOT, that equaled the taxes they would owe if they owned the building, to be based on its valuation by the city's Department of Finance. In 1988, when 88 East Broadway was being built, that PILOT was relatively affordable, just over $43,000 a year; today, the amount has ballooned to more than $1.2 million a year on top of an annual rent of $746,496. With the economic hits of 9/11, Sandy, and the shifting of the Chinatown population to other boroughs, the owners have failed to make those payments since 2015. City officials now say the mall owes more than $12 million, including $4.5 million in late fees.
The rent at 75 East Broadway, or Dong Fang, is just one-third of Yi Dong's (its overall footprint is a little smaller), but the biggest difference is its PILOT, which is a fixed sum that increases 3 percent annually and is not linked to the property's value. According to that schedule, Dong Fang would owe a PILOT of just $172,449 this year, or one-seventh of the PILOT for 88 East Broadway. (Winking Group did not respond to requests for comment on these figures.)
Terry Chan, whose father led the 88 lease deal, says his parents didn't really understand what they were signing at the time. "They just took the lease and said thank you," he recalled. "Everything came in English, and they couldn't understand it."
Chan told me he has tried to renegotiate the lease for years, but the Department of City and Administrative Services has stood firm. In July, the agency's communications chief, Nick Benson, told me in an email, "The City has repeatedly worked with the operator in an effort to help them succeed. But we have now reached a point where the operator is not only failing to meet his obligations to the City, but he's putting all of the business owners in the building at risk. The success of East Broadway Mall is too important to let it fail under a neglectful operator. So we have taken steps to terminate the operator's lease with the City of New York."
The East Broadway Mall group is fighting this decision, arguing it deserves forgiveness for decades of good-faith stewardship and the tens of millions it has already poured into paying the city. "We're just asking for a reasonable PILOT so the tenants can survive, so the Chinese mom-and-pop stores can survive," said Chan.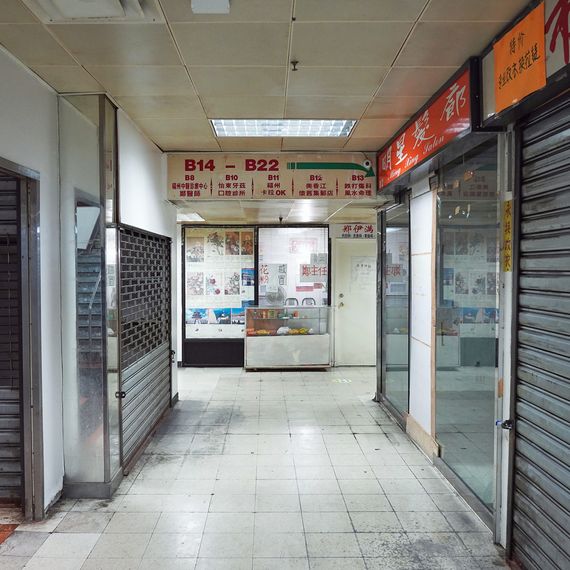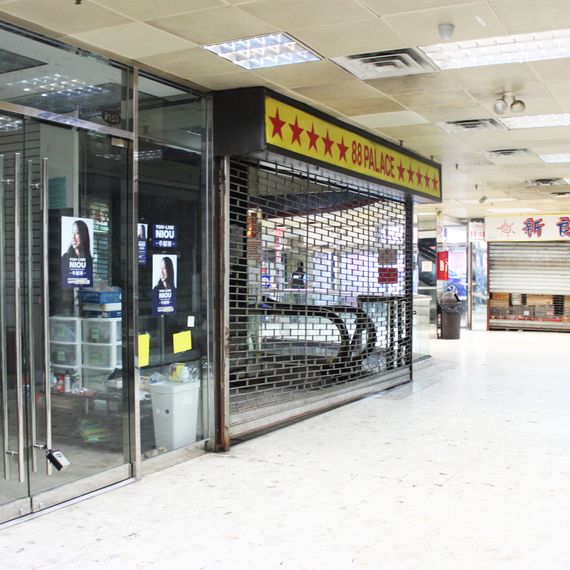 Unlike at 75 Broadway, where cheap rents still draw tenants, the conflict between Yi Dong mall and the city — now in the courts — has scared away would-be renters and even funders. 88 Palace, Yi Dong's anchor tenant and a neighborhood institution, closed in 2020 when it could no longer keep up with its agreement to pay a percentage of the building's PILOT. And earlier this year, state officials nixed a community proposal to invest part of a $20 million downtown revitalization grant into the dilapidated structure, citing the litigation. The years-long conflict has caused despair among the mall's remaining tenants, including Steven Wu, a jewelry seller who has leased a unit at Yi Dong since 1990. "The government is calculating with a computer, but Terry is using an abacus," he said. "They're not on the same page, not speaking the same language."
Wu said it's wrenching to watch the mall fall to ruin. There are no more full-time security guards or cleaners, he said, and the air-conditioning barely works. "Do you know what we're No. 1 for now?" he asked. "The toilet. It's the No. 1 one most disgusting toilet in New York City."
How do you save a community mall when its intended community is gone? Chan said he still thinks of Yi Dong as a "Chinese mall, and we would like to keep it as such." But he also knows his old tenants are unlikely to return. So far, 88 East Broadway has not seen an influx of non-Chinese tenants, but the old 88 Palace banquet space has been rented out for art and fashion-world happenings, including a Balenciaga after-party this summer. "If it gets to a point where the Chinese people are not coming back, then we have to change with the community. If it's more gweilo coming in," Chan said, using a Cantonese slang term for white people, "then we'll have more gweilo vendors." The question is whether the remaining immigrant businesses can find a way to co-exist with them.
Could its neighbor across the street offer a model? At last count, there are still more than a handful of vacant units on the second floor. But one Chinese-owned shop on the first floor seems to be thriving: Eye See Optical, an eyeglasses shop that pays around $3,000 a month for a ground-floor showroom next to the stairs. Andy Lu, a Hong Kong immigrant married to the store's owner, told me the fashion seekers who shop upstairs also buy Eye See's funky designs (A Yelp review raves, "You are sure to never see someone else rocking your frames.) Lu said the second-floor sellers were creating some much-needed interest in the space after years of stagnation. "We're not worried," he said. "As long as your business brings in foot traffic, it benefits us."
Empty units available for lease on the 2nd floor of 75 East Broadway.
Photo: Sukjong Hong
But the gap between the first- and second-floor tenants has erupted into conflict at least once. According to Lee, the computer repairman, a few months ago, after a white trans woman who works on the second floor used the women's bathroom in the basement, two middle-aged Chinese workers who were also using the bathroom panicked and complained to Walker, the security guard on duty. But Walker doesn't speak Chinese, so Lee was brought in to translate.
"I tried to explain to them, 'She's a woman,'" Lee told me. "But they insisted she was a man. So I explained, 'Actually, her ID says she's female.' But they wouldn't accept it." Walker told me the Chinese workers were "a little freaked out at first, but I think they came around." (The Chinese workers and the upstairs employee both declined to comment.)
Lee said the encounter had oddly endeared him to the mall. When I first met him months earlier, he was ready to give up on Chinatown. Now, he said, "I don't really want to leave. This area is really interesting. You have all kinds of people here. But if you live in New York and think you're still in China," referring to the shopkeepers who complained, "you'll be screwed."
Bridging the gap remains daunting. Vargas, one of the vintage-furniture sellers on the second floor, has felt that discomfort. A child of working-class immigrants from Peru, she said she feels a twinge of "first-generation guilt" when she sees the first-floor sellers: "My mom and dad were in this situation. How do I deal with it? How do I give back to my community? I don't know what the solution is." For now, Vargas and her partner Dechillo are making small gestures, like saying hi to the Chinese workers in the hallways. They also invited them to their shop's opening party in June, and a few showed up briefly, though they didn't really talk.
75 East Broadway's directory, located on the first floor.
Photo: Wilfred Chan
In a story about immigrant-owned shops losing ground to arty entrepreneurs, there's a temptation to simply cast the old-timers as victims and the newcomers as interlopers. But the fate of these malls is mostly dependent on their landlord, New York City. Why hasn't the city worked with Chan to restructure the mall's debts and lease? Why haven't Chinatown's immigrant businesses been given the aid they need to hang on compared with other neighborhoods? And what could reverse the housing unaffordability that has driven many Chinese residents, the malls' customer base, to build communities elsewhere? Meanwhile, for the city's young designers and creative-industry workers, commercial rent in the city is generally out of reach. For them, a location like Dong Fang's second floor represents a shot at a dream that might otherwise have been impossible. What if their presence is less the thing destabilizing the ecosystem than an awkward source of life support?
In the basement of 88 or Yi Dong Lou, nearly a year after I first met him, Lu's business has started to pick up again. His dumplings have become popular among some of the people on Dong Fang's second floor, including Dechillo, who eats there multiple times a week. The older mall's fate remains in limbo, but Lu told me he would like to stay, regardless of which customers he has to serve or who manages the building. "The government, Terry, I don't really care. As long as I can make money, it's fine," he said. If he can't, he'll probably relocate his store — maybe to Sunset Park, where he moved his family two years ago. The business plan, thankfully, is simple: "I'll continue to make baozi."
link