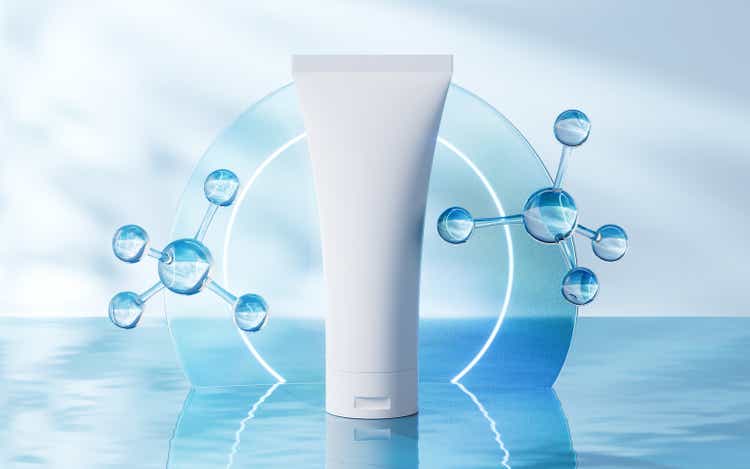 A Quick Take On Yatsen
Yatsen (NYSE:YSG) went public in November 2020, raising approximately $617 million in gross proceeds in an IPO that was priced at $10.50 per ADS.
The firm sells cosmetics and skincare products directly to consumers in China.
While the company's growing skincare business is a bright spot, its color cosmetics business continues to be a drag on its results.
Until management is able to turn around its color cosmetics segment, I'm on Hold for YSG.
Yatsen Overview
Guangzhou, China-based Yatsen was founded to develop consumer beauty brands and market them directly to Chinese consumers via major online platforms.
Management is headed by founder, Chairman and CEO Mr. Jinfeng Huang, who was previously vice president and Hunan Yujiahui Cosmetics, so he has significant experience in the industry prior to founding Yatsen.
The company's primary offerings include:
Perfect Diary

Little Ondie

Abby's Choice

Galenic
Yatsen's Market & Competition
According to a 2019 market research report by ResearchAndMarkets, the Chinese market for cosmetics was an estimated RMB362 billion ($53 billion) in 2017.
The market is expected to grow at an AAGR (Average Annual Growth Rate) of 8.16% from 2019 to 2025.
The main drivers for this expected growth are an increase in online sales channels and growing consumer discretionary income and a focus on personal appearance.
Also, imported cosmetics continue to grow, albeit at an uneven rate. The Chinese market is large enough for both homegrown and imported brands to achieve scale.
Major competitive or other industry participants include:
L'Oreal (OTCPK:LRLCF)

Estee Lauder (EL)

Procter & Gamble (PG)

Shiseido (OTCPK:SSDOY)

Shanghai CHICMAX

Shanghai Pechoin

JALA Corporation
Yatsen's Recent Financial Performance
Total revenue by quarter has fallen per the following chart: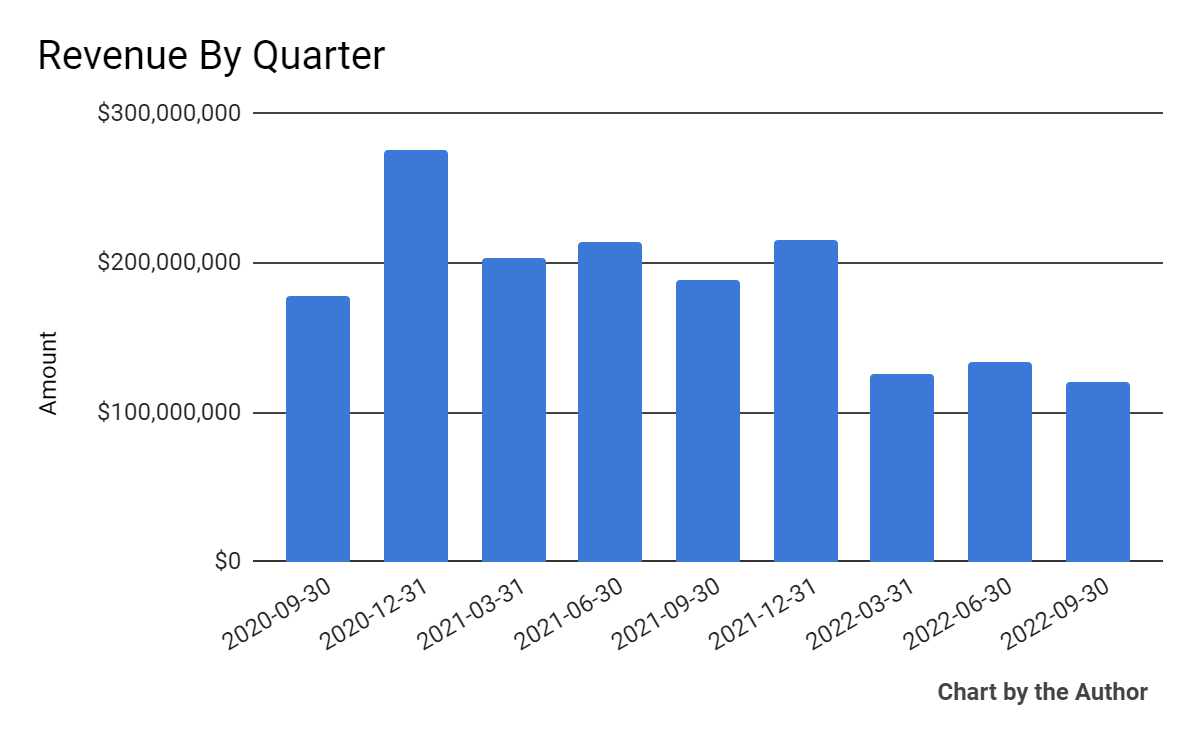 Gross profit margin by quarter has varied per the chart below: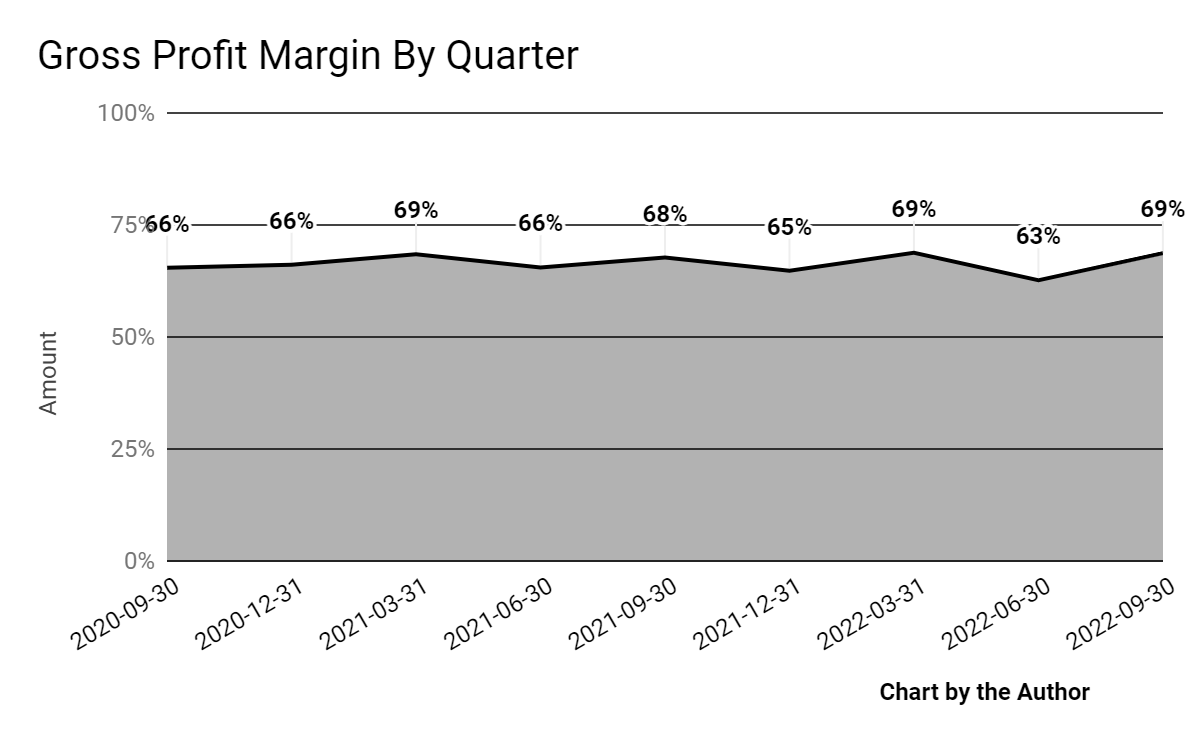 Selling, G&A expenses as a percentage of total revenue by quarter have trended higher in some recent quarters:
Operating losses by quarter have lessened slightly more recently: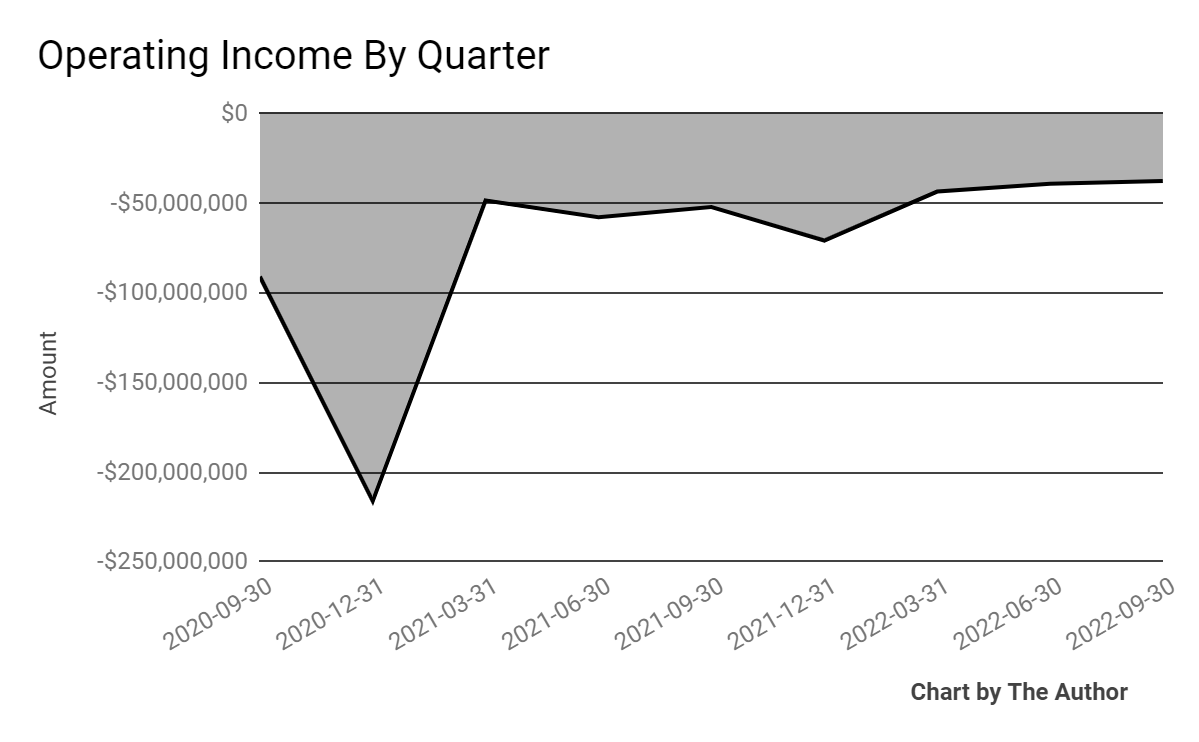 Earnings per share (Diluted) have trended somewhat toward breakeven recently: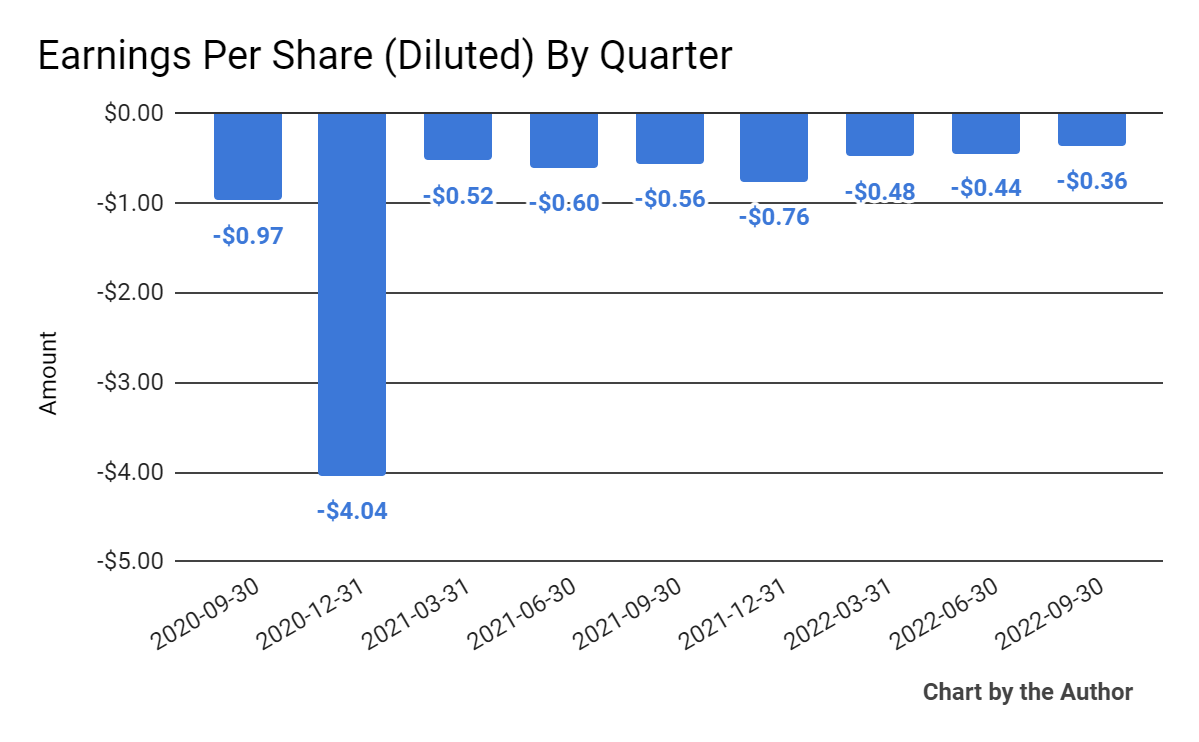 (All data in the above charts is GAAP)
In the past 12 months, YSG's stock price has fallen 4.6% vs. that of the Nasdaq 100 Index's drop of 14.6%, as the chart indicates below: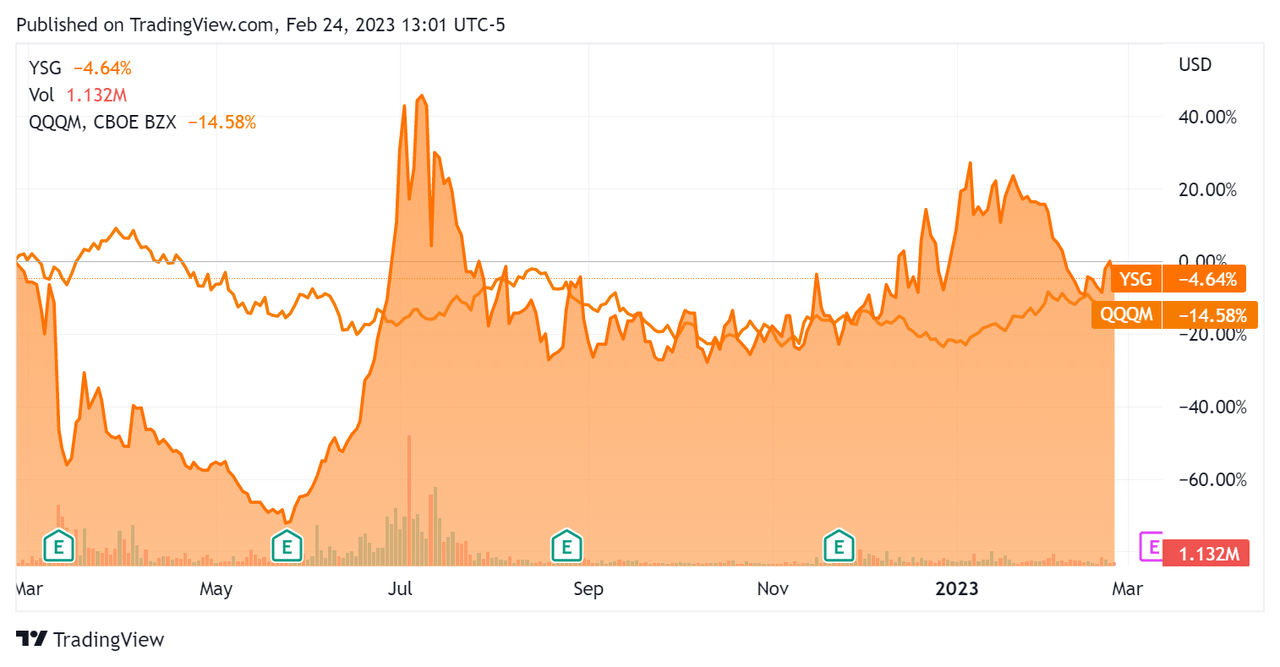 Valuation And Other Metrics For Yatsen
Below is a table of relevant capitalization and valuation figures for the company:
| | |
| --- | --- |
| Measure [TTM] | Amount |
| Enterprise Value / Sales | -0.1 |
| Enterprise Value / EBITDA | 0.4 |
| Revenue Growth Rate | -32.6% |
| Net Income Margin | -29.2% |
| GAAP EBITDA % | -28.5% |
| Market Capitalization | $782,734,400 |
| Enterprise Value | -$522,158,058 |
| Operating Cash Flow | -$396,430,000 |
| Earnings Per Share (Fully Diluted) | -$2.04 |
(Source – Seeking Alpha)
Commentary On Yatsen
In its last earnings call (Source – Seeking Alpha), covering Q3 2022's results, management highlighted dealing with the twin challenges of greater 'macro headwinds' and reduced consumer spending.
However, on a positive note, revenue from its Skincare Brands segment rose 33% year-over-year.
The company continued to optimize its offerings while closing some offline stores that were underperforming.
Management sees continuing offline store optimization into the fourth quarter of 2022.
As to its financial results, total revenue dropped 36.1% year-over-year, primarily due to a large drop in its color cosmetics brand offerings.
Gross profit dropped but margin increased by one percentage point year-over-year to 68.9%.
Total operating expenses decreased significantly year-over-year, but rose as a percentage of revenue, while fulfillment expenses decreased slightly.
Selling and marketing expenses decreased by 2.1% due to improved online marketing efficiencies and the result of offline store closings.
For the balance sheet, the firm finished the quarter with $359.6 million in cash, equivalents and short-term investments and no debt.
Looking ahead, for Q4 2022, management guided revenues to drop 35% year-over-year at the midpoint of the expected range.
Regarding valuation, the market is valuing YSG at an EV/EBITDA multiple of 0.4x.
The primary risk to the company's outlook is the ongoing store closures and expenses related to its restructuring, which will likely continue well into 2023.
A potential upside catalyst to the stock could include a strong 'reopening effect' of China's economy as a result of the ending of the Zero-COVID policies.
While the firm's growing skincare business is a bright spot, its color cosmetics business continues to be a drag on its results.
Until management is able to turn around its color cosmetics segment, I'm on Hold for YSG.
link