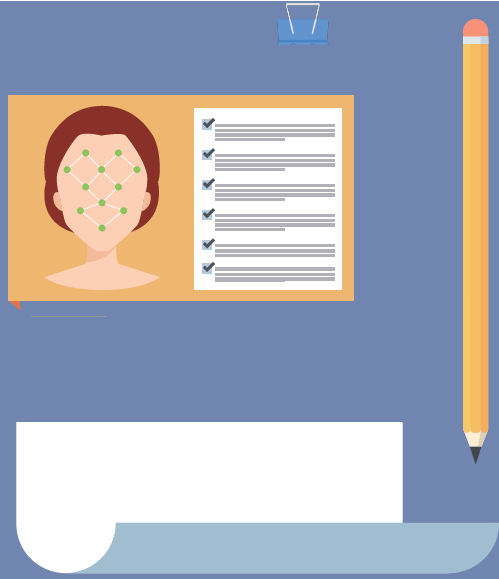 Zhou Yaoxin is feeling bitter, as unlike her dormitory friends at a Shanghai university, she is not in a relationship. She attributes this lack of romance largely to her appearance.
Although her mother often encourages her by saying that she has a cute face, Zhou has doubts about her appearance. She recently turned for help to an online shop owner, who promises customers an honest and objective appraisal of their looks.
After paying a fee of just 12 yuan ($1.77), the owner provided Zhou with a 200-word summary of her appearance.
"I"m interested in the initial impression I have on strangers, which is difficult to learn from friends," said Zhou, 22, adding that the shop owner told her in a direct manner that her face is long and her forehead short.
"She suggested I abandon my fringe to try curly hair, which I've never had before, and I am interested in following this advice," Zhou said.
More young people such as Zhou are using the internet to seek assessments of their facial appearance. Such services are available on shopping platforms, including Taobao, Xianyu and Pinduoduo. During the past month, dozens of online stores have received more than 100 such requests.
Store owners said most customers are young people worried about their appearance. Some are influenced by videos and photoshopped images of attractive faces, which cause them to fret over their own looks.
In 2021, a survey of more than 2,000 students from higher education institutions nationwide found that nearly 60 percent were worried about their appearance to some extent. The poll was organized by China Youth Daily.
Zhou has been anxious about her looks since she was a teenager. During puberty, she had a rather fat face and chubby physique. Some classmates dubbed her "Giant panda".
Since starting university, she and her classmates have used makeup. During the Single's Day shopping festival, one of the biggest such events of the year, Zhou spent more than 10,000 yuan on cosmetics and skin care products — equivalent to her pocket money for five months.
"But when I see my dorm mates dressing up, I still feel that I am not on the right track in terms of making myself more attractive," she said.
Zhou feels that good-looking people have certain advantages. "I was searching for a buffet restaurant on a gourmet app recently, and saw a comment that waiters provide better service if a pretty girl is at a table. I crossed this restaurant off my list," she said.
She added that she is satisfied with the assessment from the online store, which provided detailed comments about her facial characteristics.
The store also offered tips about wearing makeup, and suggested she try certain lipstick colors to make herself more attractive.
"I hope I'm going in the right direction in finding a style that is ideal for me, and which will give me more confidence," Zhou said.
Personal taste
Xiao Ci, 25, who has been a makeup artist in Wuxi, Jiangsu province, for seven years, opened an online store in late 2021 to provide assessments of customers' appearance.
She said her career was impacted by the COVID-19 pandemic, so she launched the store with several other people after hearing that such ventures were becoming popular.
Cosmetic artists at the store pay most attention to facial characteristics, while other members of the team with a background in artistic design give more consideration to coordinating facial features.
The store, which charges only 2.88 yuan for an assessment and comments, and 7.88 yuan for additional advice, handled nearly 1,000 requests in the past month.
"Appreciating beauty largely relates to personal taste. We've worked with many individuals, including celebrities and the public, and we offer professional appraisals and advice," Xiao said, adding that the team suggests that customers provide photos of themselves without makeup.
In recent years, the standard for a good-looking face has changed from delicate eyes and nose to considering the entire face. Opinions vary of what constitutes a beautiful face, but typically it is one that is slender, has fair skin, and makes the person look younger than they are.
Although Xiao and her colleagues use diplomatic words in their appraisals, she said some customers become annoyed and even want a refund when they receive their results.
"Most people have average looks, but some may have overexpectations of themselves," Xiao said.
Last year, You Jie, a university student majoring in new media in Guangzhou, capital of Guangdong province, launched an online business that provides appraisals of customers' looks. She receives about 100 such requests each month.
You said she lacks a professional background, but is keen on fashion and makeup. She wants to help customers reduce anxiety about their appearance and find a style that suits them.
Some clients repeatedly request appraisals and advice, but You feels they are too concerned about their appearance.
She added that some are afraid their looks may prevent them getting a job such as a flight attendant or sales assistant working on a beauty product counter.
"Others are apparently heavily influenced by trends on the internet and in the entertainment industry," You added.
In the past few years, young people have followed a trend set by celebrities who have extremely thin waists.
Lainey Lei, general manager of the China unit of Galderma, a Swiss dermatology company, said young people are still developing, and they naturally have certain hopes and goals for life, including the pursuit of beauty.
Over the years, changes have been witnessed to such a pursuit through cosmetology services in China, she said.
Consumers who turned to plastic surgery to improve their appearance when such services were launched in the country were subsequently keen to keep abreast of the latest fashion trends, Lei said.
"Now, it is all about individualism. More young people regard their appearance as an important way to reflect their attitude and personality. This shows that public views on aesthetics are becoming more rational and are gradually maturing," she added.
Family concern
According to psychologists, it is natural for those in adolescence or early adulthood to pay attention to their appearance, as this builds self-identity and shows whether others like them. Some people's anxiety about their appearance is due to excessive concern from their families in this respect
Young people also now spend more time socializing online, in which appearance is a key factor.
Yan Yulei, a psychological counselor based in Beijing and registered with the Chinese Psychological Society, said: "The importance of someone's appearance decreases as they get along with others, communicate and collaborate. A pretty face alone doesn't help in an intimate relationship in the long run. Instead, good attributes and an interesting personality will make someone appear attractive in the eyes of another."
She added that it is better to be optimistic and embrace a healthy lifestyle, rather than spend a lot of time dwelling on appearance.
"A self-disciplined schedule of work and rest, healthy habits, and also wearing the right clothing contribute to helping young people look energetic and attractive," Yan said.
link